Cookie Ingredients:
1 cup unsalted butter (room temperature)
1/2 cup honey (Beeyond the Hive of course)
1 egg
1 tsp vanilla extract
2 1/2 cups all-purpose flour
1/2 tsp salt
Icing Ingredients:
2 1/2 cups powdered sugar
1 tsp vanilla extract
1 1/2 tsp light corn syrup or honey
2-3 Tbsp milk
Food coloring
Hey honey lovers! Welcome to February, which is also the dreariest of all the months! I don't know about you but I just feel like the holiday hangover and seasonal depression is a real thing that happens to me in January and February. Do you feel that way? I think after the hype of Christmas and New Years, I don't have much to motivate me for the next two months until the weather starts to warm up and I can feel the sunshine and flowers start to bloom! But on the bright side, we do have Valentines day to look forward to! The wonderful day of love. And boy do we need some extra love this year!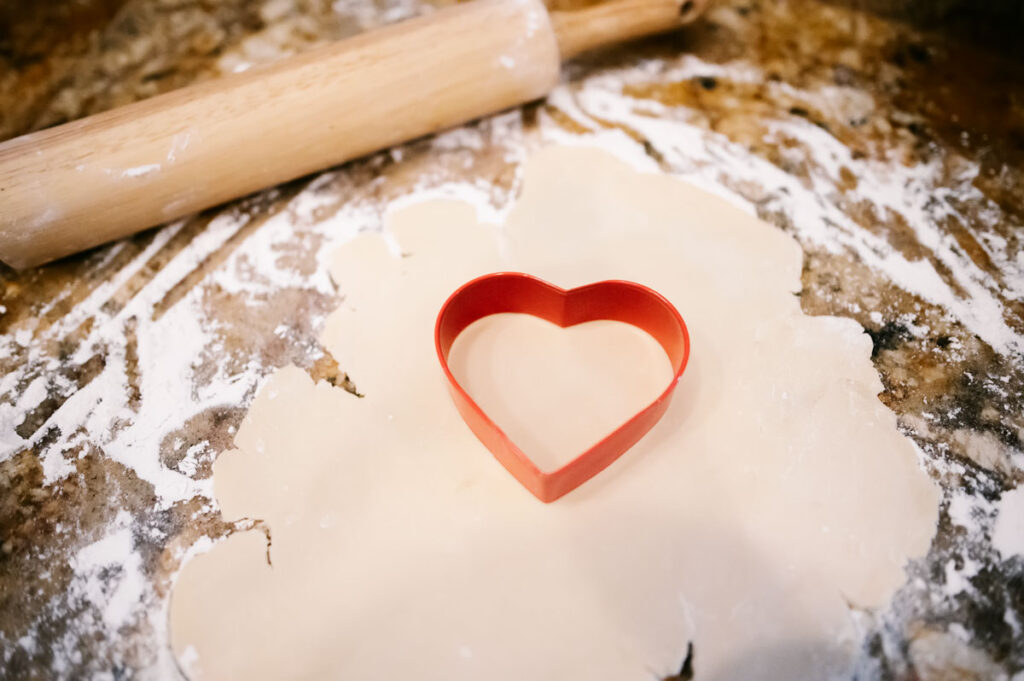 One way I show my love is by cooking for my sweet family. These simple honey cookies are, well, simple! They actually taste pretty close to regular sugar cookies but they are versatile. I decided to turn them into Valentines cookies but you can totally skip the icing and sprinkle with sanding sugar or Sugar in the Raw. I did a little of everything. I made them into big ol cookies with icing and sprinkles, I did little cut outs and turned them into cookie sandwiches and I also kept some plain and simple.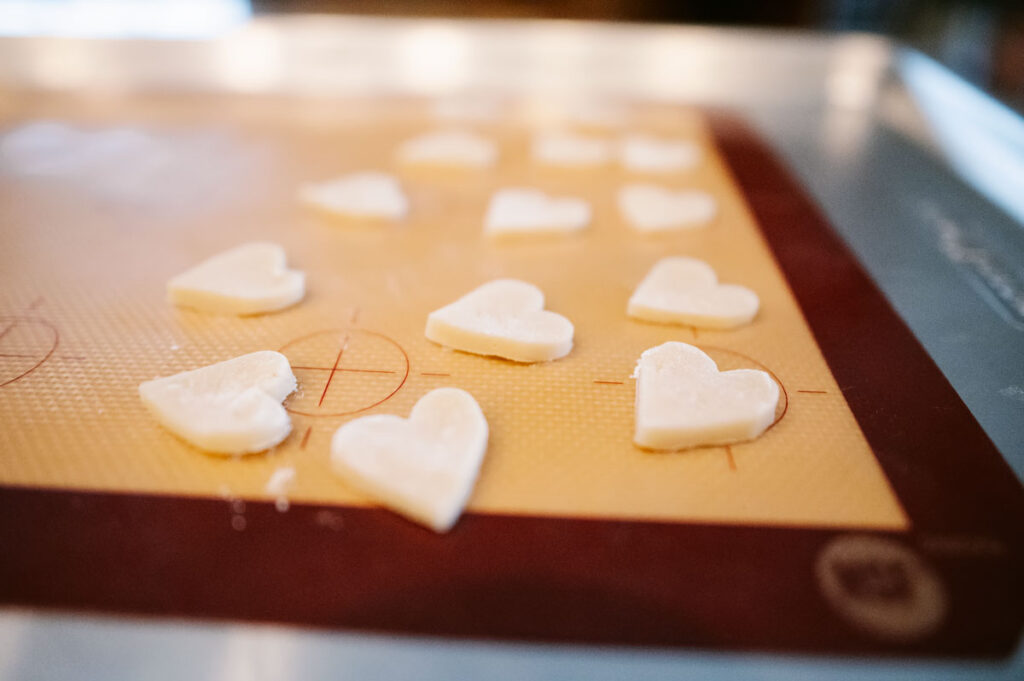 I think no matter what route you take, it won't be wrong! It was fun to have a cookie dough so versatile that I could make some different variations. The boys liked them all and they kept saying that these cookies tasted like our sugar cookies we make for Santa. Plus they were happy to help me decorate and take many licks of the frosting spoon along the way! My mom was the best at letting me lick the spoon, the bowl and anything else that had traces of frosting.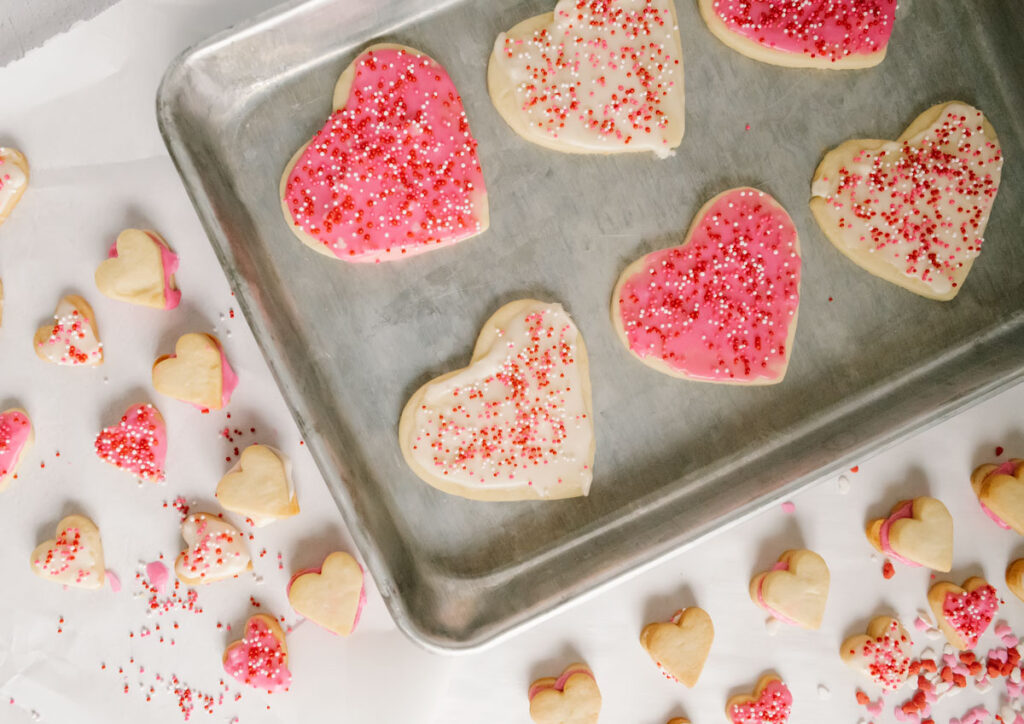 What are some of your traditions or memories of Valentines day? My mom always made Valentines day pretty special however my husband said they didn't do much….but I also just think that's a boys perspective! They don't care about that kind of stuff right? I do know that my boys are always excited when I put special treats in their lunch bags for school. I can just picture them all sitting around the school lunch room table and their friends are trying to steal their treats. That makes me a good boy mom right?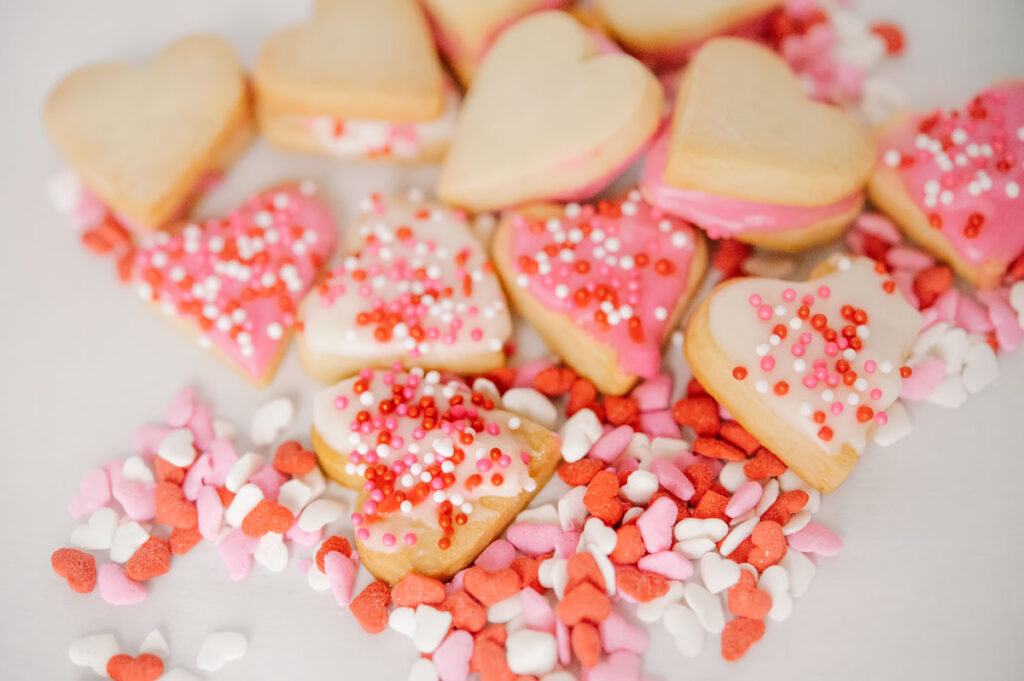 Who really knows! But this Valentines day I will spread some extra love out into the world and I hope you do the same. I challenge you to compliment 5 complete strangers this week. I guarantee it will make their day! Whether it's a grandma that has freshly curled hair, a new mom looking tired and needs a little encouragement or a squirrelly teenager that needs reassurance. The power of a random and unmotivated compliment is one of my most favorite things!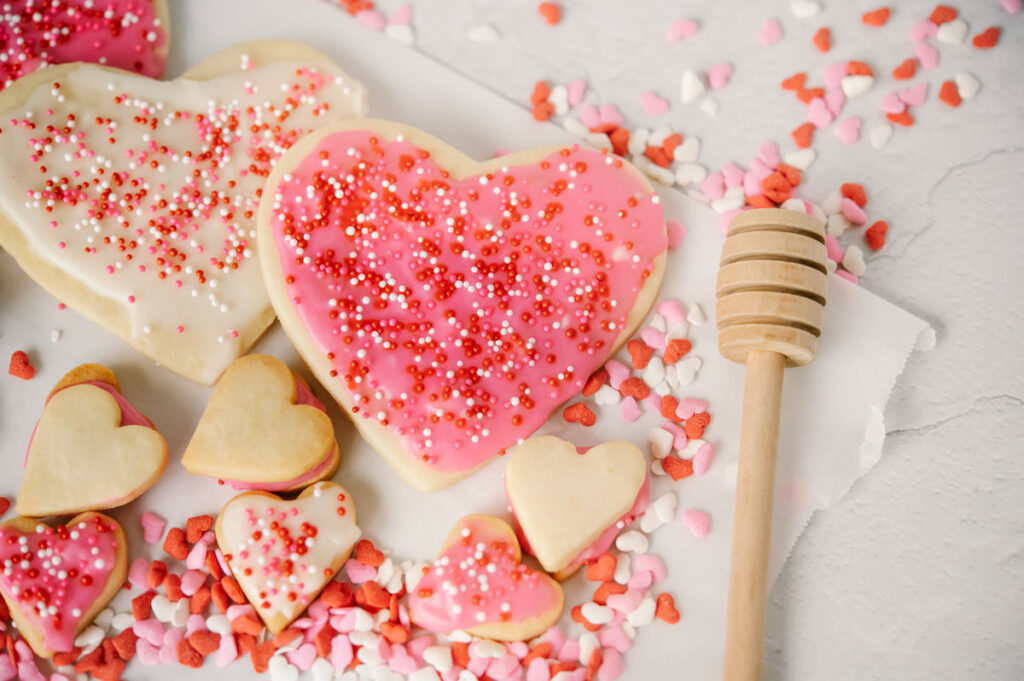 No matter your thoughts on Valentines day (whether you think it's a Hallmark holiday or believe in the all the magic of this day) I think it's a great reason to think of our loved ones, show them lots of love and also spread that love to those unsuspecting strangers! It not only warms their hearts, but it also makes your heart swell with joy. And that is the reason for this amazing day! Thank you honey lovers for all that you do and I my heart is always full from all the love you show me throughout the year! Now go on and spread the sweetness!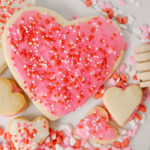 Valentines Honey Cookies
Easy and versatile recipe that will spread some sweetness to your loved ones!
Ingredients
Cookie Ingredients
1

cup

unsalted butter

(room temperature)

½

cup

honey

(Beeyond the Hive is best!)

1

large

egg

1

tsp

vanilla extract

2½

cups

all-purpose flour
Frosting Ingredients
2½

cups

powdered sugar

1

tsp

vanilla extract

1½

tbsp

light corn syrup or honey

2-3

tbsp

milk

food coloring

(gel is best)
Instructions
Beat butter and honey until thoroughly combined.

Add in your egg and vanilla extract.

Mix in flour and salt until just combined.

Separate the dough into two equal parts. Wrap each ball of dough with plastic wrap and refrigerate for a minimum of 30 minutes or overnight.

Take one ball of chilled dough and roll out on floured surface. Cut the dough into shapes and aline cookies on a lined cookie sheet. Continue on to the second dough ball.

Bake for 10-13 minutes or until the edges begin to brown. Cool completely.

Make the icing by beating the powdered sugar, vanilla, corn syrup and 1 tbsp of milk until smooth.

Add more milk until you reach the desired consistency. Stir in your choice of food coloring! Ice those cookies, make cookie sandwiches and don't forget the sprinkles!