1/2 cup un-popped popcorn kernels
3 tablespoons cooking oil
1 cup peanuts (optional)
1 cup brown sugar
1/4 cup honey
1/2 teaspoon salt
1/2 butter
1/4 teaspoon baking soda
1/2 teaspoon vanilla extract
Hey all! I am just going to jump right in on this one. It's been a while since my last recipe post but I hope this is worth the wait. Now, when I say this is a home run recipe…..I mean it! Seriously. I saw this recipe posted on The Stay at Home Chef and I was totally in the mood for some good caramel corn. I am an absolute sucker for popcorn especially if it's kettle corn or caramel corn. So it was a no brainer for me to give it a whirl!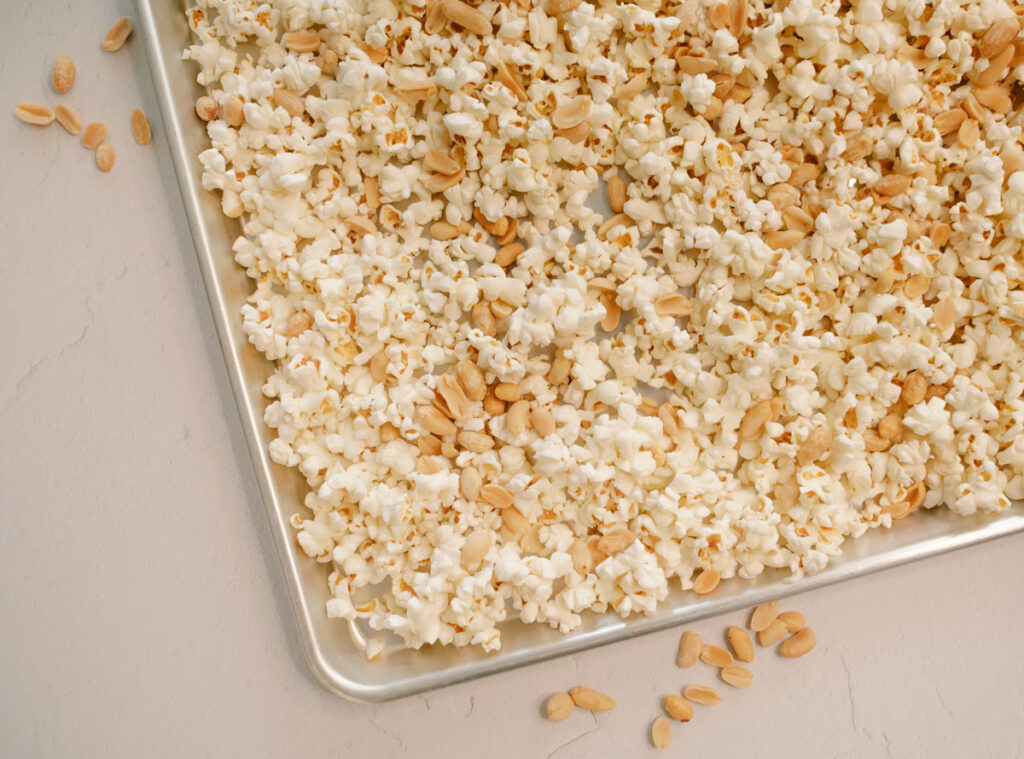 You start out by popping some corn. You can use a regular large pot, an air popper or I used a Whirly Pop that I received from a neighbor that I absolutely love. Once you pop the corn you spread it on a baking sheet and add some peanuts if you'd like! Once you get that taken care of you will then make your honey caramel mixture and drizzle it on the popcorn and toss around.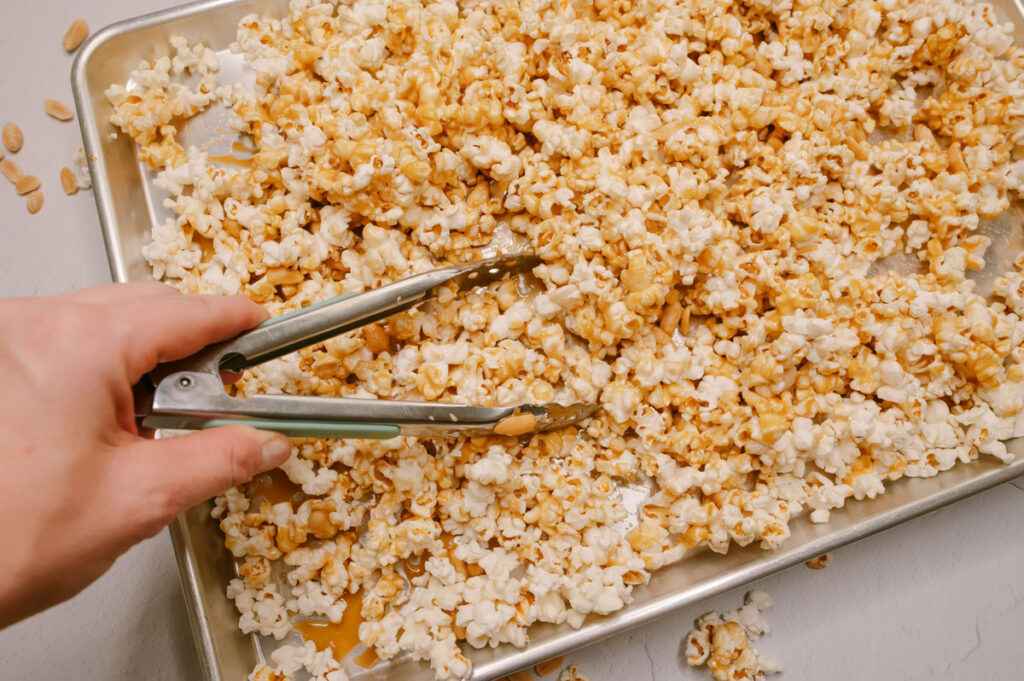 Your kitchen is going to smell amazing! All of my boys were playing downstairs and once they smelled this honey caramel mixture they all came running upstairs like hungry vultures! They were pacing around just waiting for this to be done. Unfortunately for them I still had to bake it for an hour. This was the hardest part because…well, I had to display major restraint to not shove a handful in my mouth! Every fifteen minutes you take it out of the oven and toss to continue to coat every last popcorn kernel. Don't worry, I snuck a few taste tests each time I pulled it out of the oven!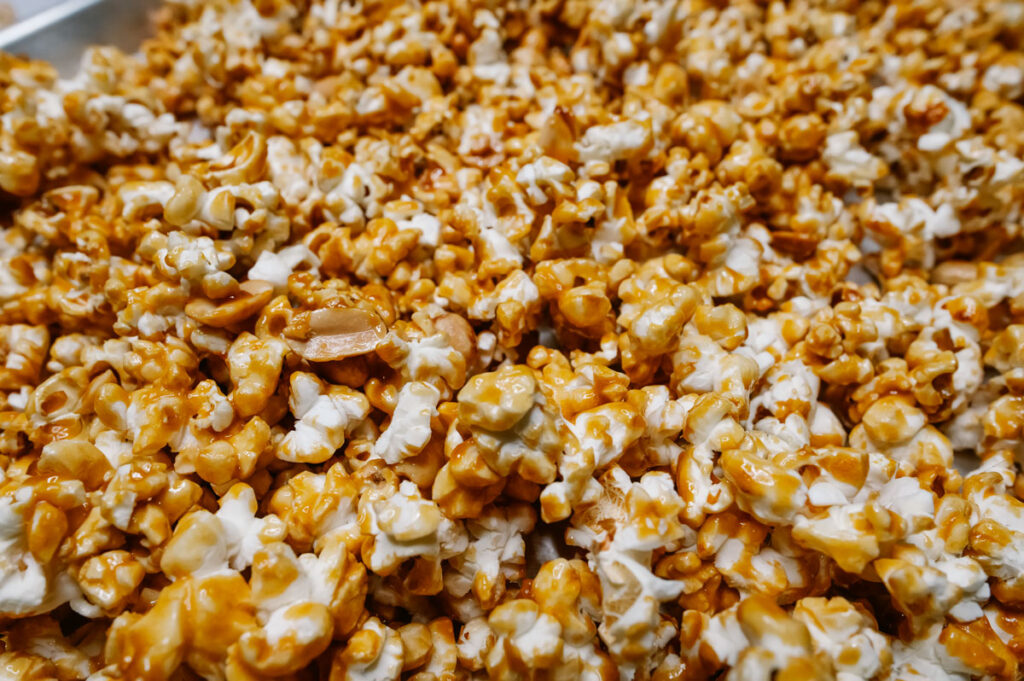 Once you reach that hour mark you can line a clean baking sheet with wax paper and pour the popcorn on there for it to cool! My boys were surrounding this popcorn like it was their last meal on Earth. They couldn't resist and neither could I! I am truly confident you will love this recipe. I am dead serious. I know something is good when I start thinking I should bag this popcorn and sell it on the side of the road. People would come from near and far I guarantee it! Now is the time to listen to me and make this damn recipe! It will be a huge hit for everyone! I am so thankful for The Stay at Home Chef for creating this masterpiece because it will be a staple in our family!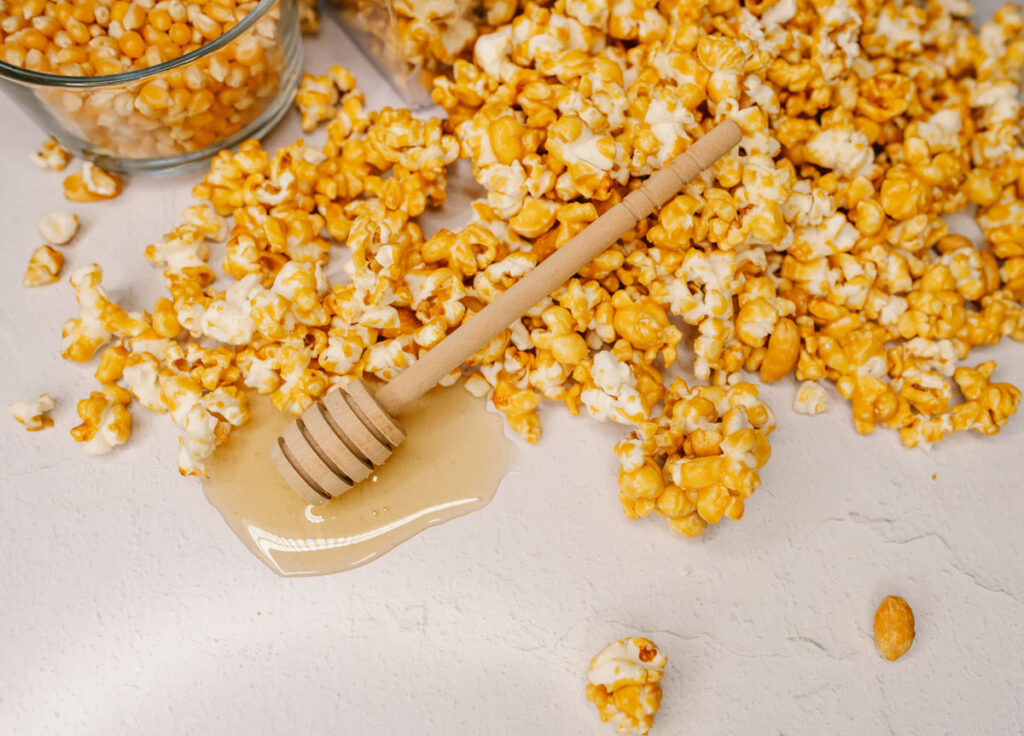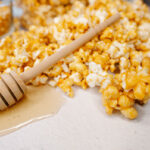 Honey Roasted Caramel Corn
Ingredients
½

cup

un-popped popcorn kernels

3

tbsp

cooking oil

1

cup

peanuts

*optional

1

cup

brown sugar

¼

cup

honey

(Beeyond the Hive is best!)

½

tsp

salt

½

cup

butter

¼

tsp

baking soda

½

tsp

vanilla extract
Instructions
Pop your corn kernels by using an air popper, Whirly pop or even just in a large pot. Pour in the cooking oil, cover and cook over medium heat until most of the kernels have popped.

Spread your popcorn onto a large baking sheet. Add the peanuts onto the popcorn if you'd like. But it's totally optional for all those with peanut allergies.

Next, combine the brown sugar, honey, salt and butter in a small saucepan and bring to a boil. Then simmer for 5 minutes and stir constantly.

Remove from heat and add the baking soda and vanilla, stir and immediately pour over the popcorn!

Bake the corn mixture at 250° for about an hour. Stir every 15 minutes!

Line a clean baking sheet with wax paper and once the popcorn is done baking you can spread it on the wax paper to cool. Serve or store in an airtight container! Enjoy!