1/2 cup salted butter, melted
1/2 cup honey (Beeyond the Hive is best!)
2 teaspoons vanilla extract
1 cup whole milk or buttermilk
1/2 cup plain greek yogurt
2 eggs
1 1/2 cups all-purpose flour
1 cup whole wheat flour
2 teaspoons baking powder
1/2 teaspoon baking soda
1 cup fresh strawberries, diced
1/2 cup high quality strawberry jam
2 teaspoons lemon zest
Happy Spring season to all you honey lovers! I am so excited for the sunshine and flowers these next few months.The BEE boys and I just got back from California and we are ready to finish the last few weeks of school and get on with summer. For several years now we have headed to Cali during spring break so the boys can work the bees and see all the pollination chaos. Plus they get to hang with their Papa (Beeman Lyle), my husband and the rest of the family and crew out here. These guys and gals work so incredibly hard so I want the boys to bear witness to what they go through. Plus I miss working out here too.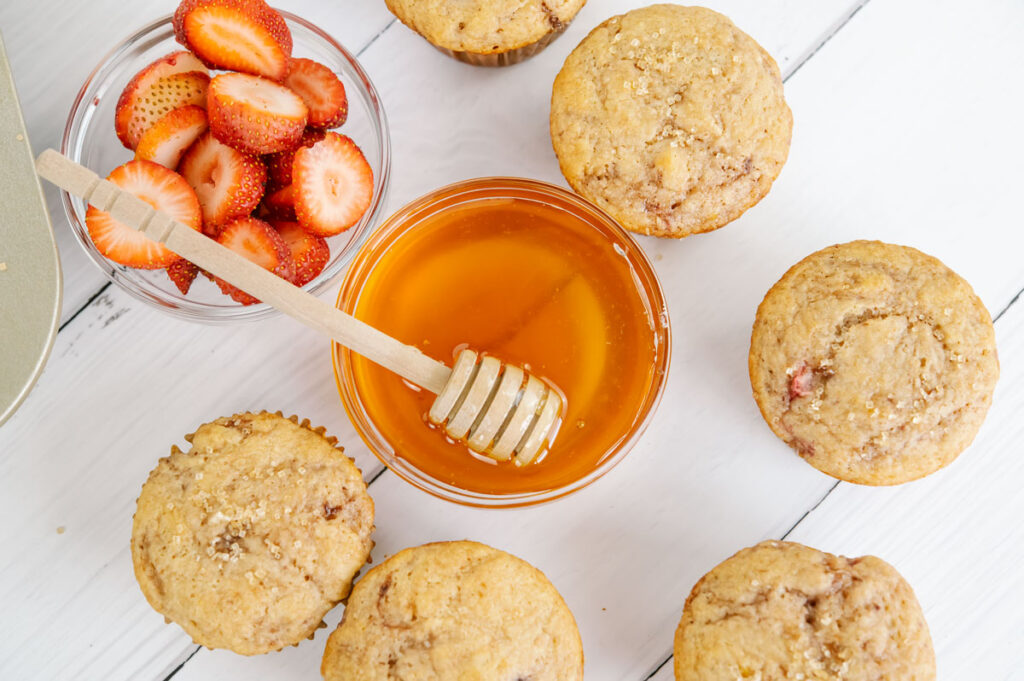 I started doing pollination with my dad right after college so I think I was about 22ish. I had always worked with him doing all of the other seasons but I had never been able to see pollination. My sister, Jamie, had been helping him for a year or two prior so I decided to give it a go. It was rough for the first year. My sister would get mad because I didn't know what I was doing, I wasn't fast enough and was basically naive to what needed to be done. After that first year of being a deer in the headlights I started to get the hang of things and loved the work. It was SUPER long hours (i'm talking like 16-20 hour days and 7 days a week), I was away from my house and friends for months at a time and it was some grueling work.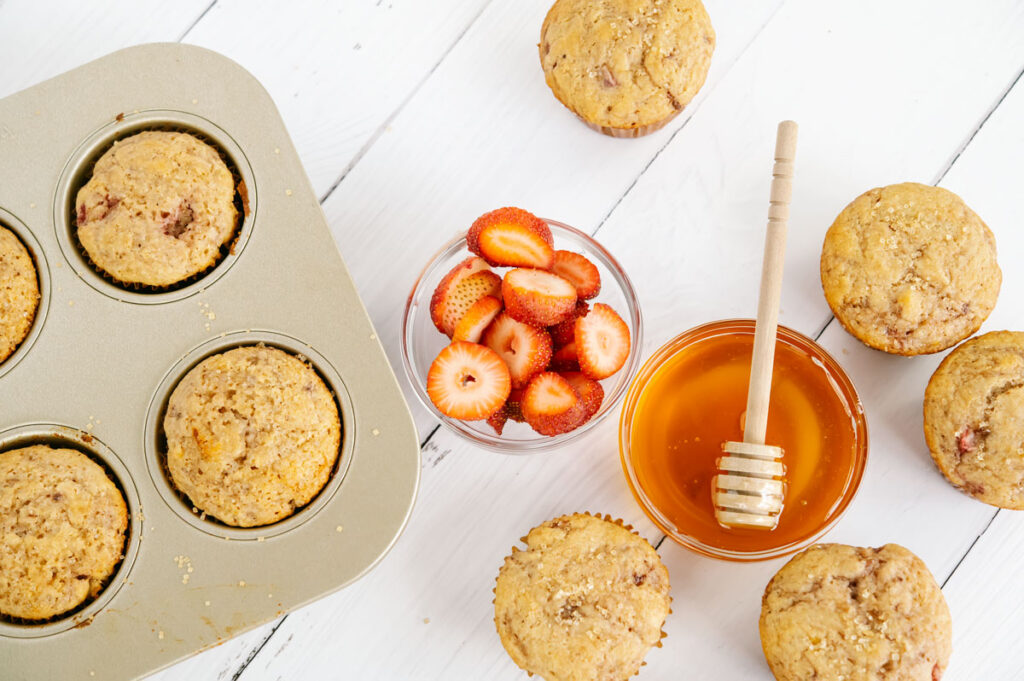 I like to look back on those 8 years I did pollination as a crash course for motherhood. It taught me some true grit because of the excruciating and long hours (especially when your dad likes to push the limits of how hard and how fast we can work!), learning how to always be two steps ahead in case something goes wrong, you must be able to remain level headed when the unexpected happens and think on your toes (also doing that while sleep deprived). Without a doubt it prepared me for raising 3 boys and running a business. I miss working out there more than anyone will ever know but I am also proud of myself for being selfless and knowing that once I started a family with my husband my focused needed to be on my babies. It just would not be feasible to do it all and do it well to be honest.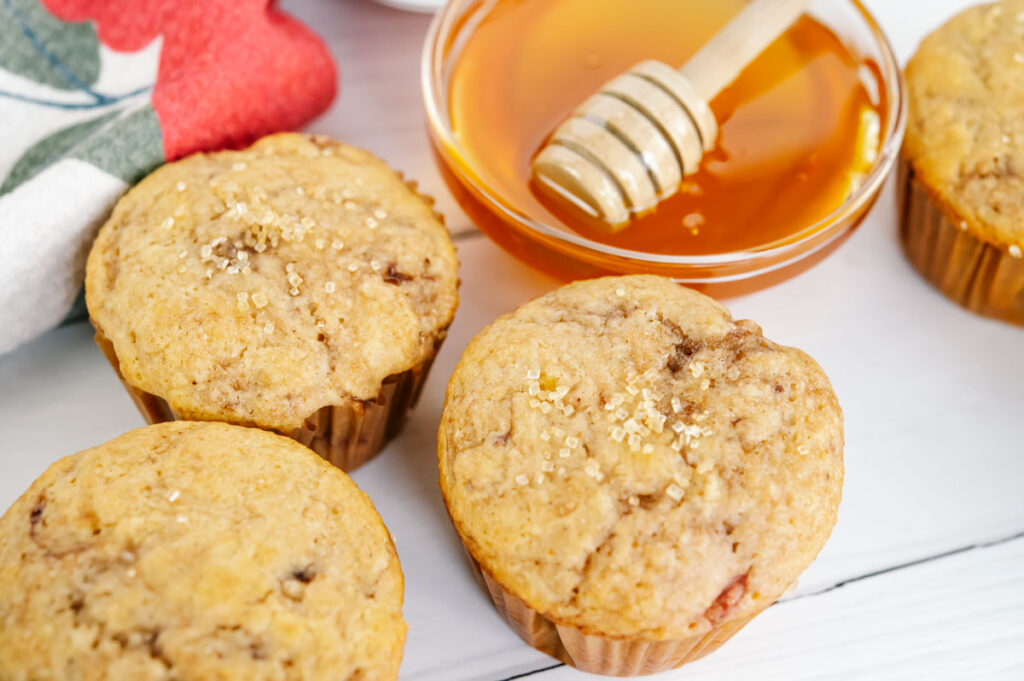 My quick trips out to California are now how I get my pollination fix out of my system. I love that I can help here and there while I'm out there, reminisce about the old times and show my boys how their momma can still get er' done (even though I might be a tad bit rusty…they don't have to know!). In the end, I know ultimately I am right where I need to be…..with my boys and growing the other end of our business and trying to preserve our family's legacy. Do I miss it? Absolutely. Does it kill me not to be a part of the action anymore? Of course. But I will hold that time in my life close to my heart, cherish my memories with my dad and sister and just work towards showing the boys the path to developing their own grit and work ethic!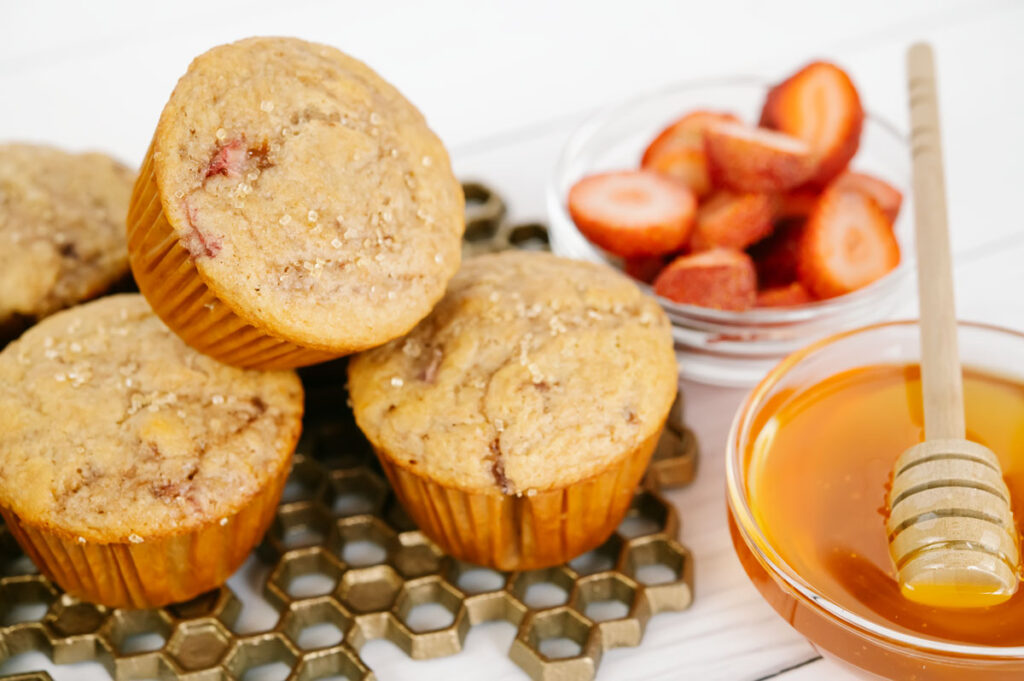 Oh….I guess I should talk about this recipe. Sorry! I've had a lot on my heart lately and pollination was fresh on my brain. These muffins are a good one to try! I snagged the recipe from the amazing Half Baked Harvest. I've been really digging her Instagram stories and have tried some of her recipes. She is truly amazing at what she does and has quickly become one of my favorites. Please go check her out and give her a follow. Maybe one day I'll convince her to use our honey in one of her recipes! Wouldn't that be amazing! I'll add that on my list of things to do but I hope you add this recipe on your next list and try it out. Let me know what you think and thank you for listening to my ramblings and hope you have a sweet and wonderful week!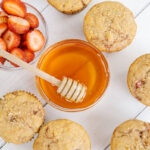 Honey Strawberry Muffins
Honey Strawberry Muffins
Keyword:
honey, muffins, strawberry, wheat
Ingredients
1/2

cup

salted butter

melted

1/2

cup

honey

(Beeyond the Hive of course!)

2

teaspoons

vanilla extract

1

cup

whole milk or buttermilk

1/2

cup

plain greek yogurt

2

eggs

1 1/2

cups

all-purpose flour

1

cup

whole wheat flour

2

teaspoons

baking powder

1/2

teaspoon

baking soda

1

cup

fresh strawberries

diced

1/2

cup

high quality strawberry jam

2

teaspoons

lemon zest
Instructions
Preheat the oven to 350 degrees F. Lightly coat 18 muffin tins with nonstick spray.

In a large mixing bowl, whisk together the melted butter, honey, vanilla, buttermilk, greek yogurt, and eggs until smooth. Add the flour, whole wheat flour, baking powder, and baking soda, and mix until just combined.

In a small bowl, stir together the strawberries, jam, and lemon zest. Gently fold the berries into the batter, being careful not to over mix, you are going for a swirled look.

Divide the batter evenly among the prepared muffins tins. Transfer to the oven and bake for 25-30 minutes or until a toothpick inserted into the center comes out clean.

Serve the muffins warm or at room temp with a smear of butter. Enjoy!