Since 1908
Beekeeping is not only our occupation, it is also our passion.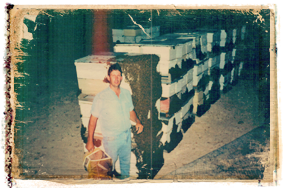 We are very humbled that we have surpassed our 100 year anniversary and our enthusiasm towards beekeeping still remains strong!
Our family legacy began in 1908 with our great grandfather, Walter Leckenby. Walter was one of the earliest beekeepers in Colorado and people drove from all corners of the state just to buy his honey that was sold off a wagon in front of his house.
When the time came for Walter to retire, he sold his hives to his new son-in-law Arthur Johnston. Arthur's initial curiosity quickly turned into a genuine fascination of the bees. It came as no surprise to Arthur or his wife Louise when their four sons inherited his same passion and chose to follow in the footsteps of their father.
Larry, Harlan, Lyle and Gary were young, ambitious, and at one time operated a combined total of 10,000 hives. Over the years millions of pounds of honey have been produced by the Johnston family!
Jeff established The Colorado Honey Company in 2001 and distributes our family honey to bulk accounts nation wide.
Jamie and Jacy created Beeyond The Hive in 2005 with a vision to share their passion and excitement for the industry by bringing a young and fresh approach to the retail market.
Johnston Honey Farms, The Colorado Honey Company, and Beeyond The Hive are all intertwined and represent four generations of hard work and dedication. We take the greatest pride in our family businesses and we promise your tongue will buzz with delight for another 100 years to come!