1 1/2 cups all-purpose flour
1 1/2 cups cornmeal
5 teaspoons baking powder
1/2 teaspoon baking soda
1/2 teaspoon salt
1/2 teaspoon pepper
1 1/2 sticks cold unsalted butter (cubed)
1 egg (beaten)
3/4 cup buttermilk
1/4 cup honey (Beeyond the Hive of course!)
3/4 cup sharp cheddar cheese (cubed)
1-2 jalapeño(s) deseeded and chopped
Howdy honey lovers! Hope your November is pluggin' along alright. My boys are on Thanksgiving break so I am excited to spend some time with them but I'm sure in a matter of a few days I'll want to pull my hair out because of the excessive fighting and bickering between all boys! The key is to keep them busy and referee the petty arguments before they escalate! I've gotten really good at my referee skills:)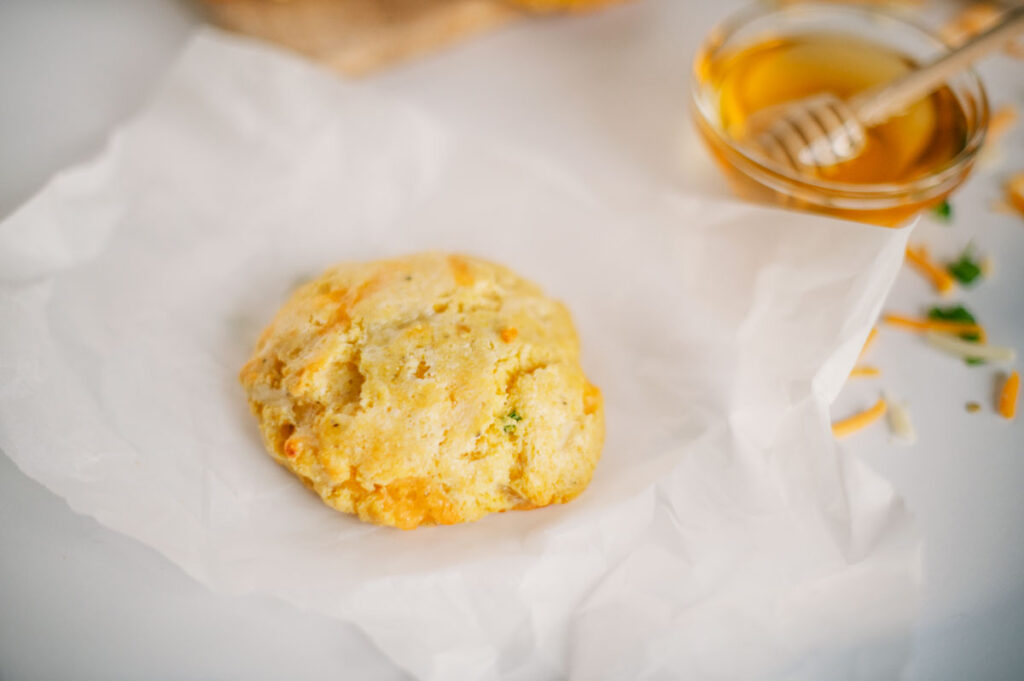 You know, I am pretty thankful we live on several acres just for the mere fact that I can make the boys go outside and play when they are getting too crazy. They have lots of things to do and explore out there and I count my lucky stars that I have that option! It gives me some time to do my chores and of course, some cooking!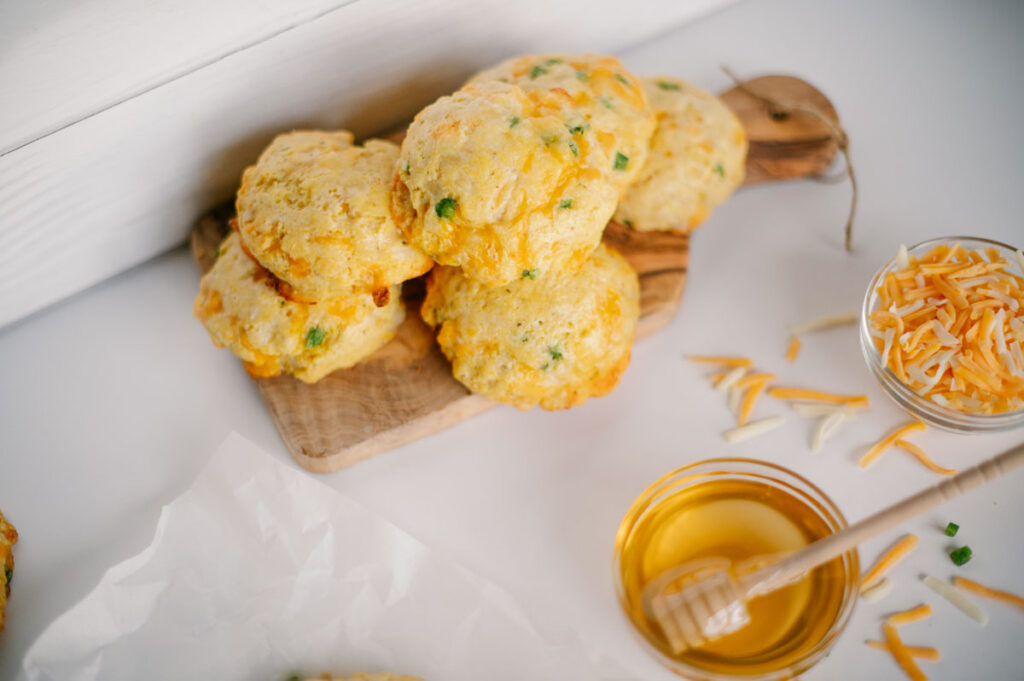 I love trying new recipes and I think it's the anticipation of whether it'll be a winner or completely flop that I love the most! This recipe I found while stumbling upon the amazing Half Baked Harvest! If you don't know who she is you better go check it out. Her blog is amazing, her recipes are top notch and the photography is to die for! She even has a cookbook. Talk about goals I'd like to reach one day:) Until then I'll just drool over her recipes and cheer her on from afar!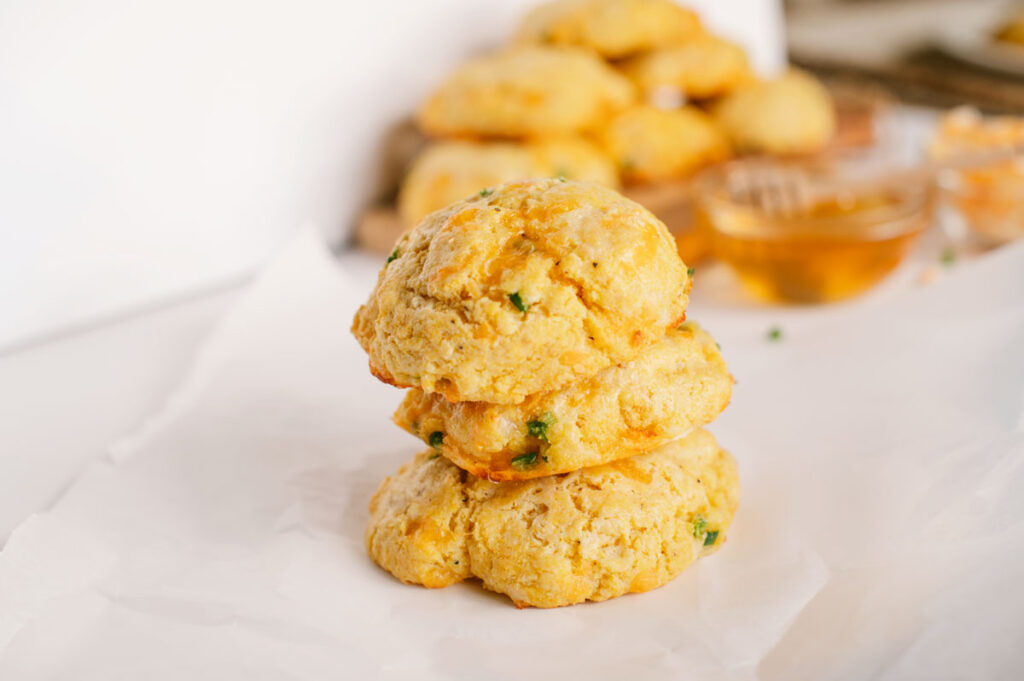 So back to the recipe…these cornbread biscuits turned out awesome! They are flakey, butter and a great combo of heat and sweet. Plus you know I have to drizzle more honey on top! And don't get me started on the extra surprise of the cheddar cheese! Its just a fun combo that would go great for the holidays, BBQs or any Sunday dinner! So check it out, go discover Half Baked Harvest and make sure you are taking time to enjoy the sweet things in life! Have a great week!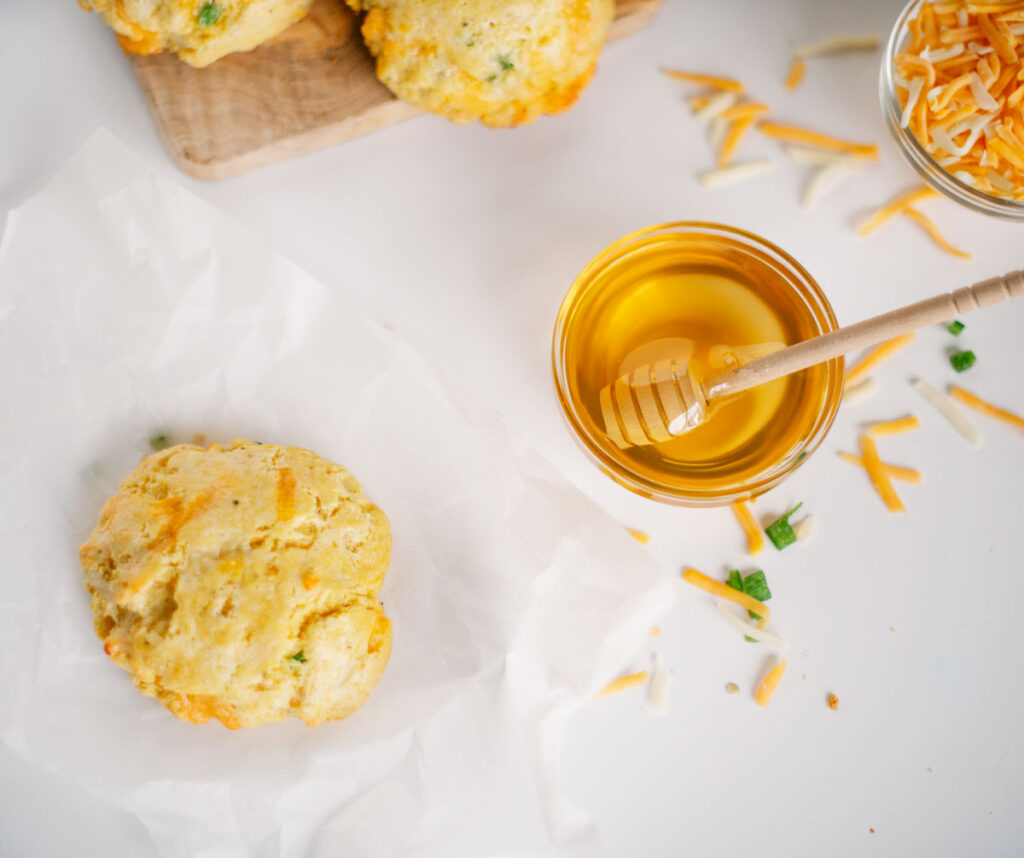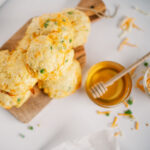 Jalapeño Cheddar Cornbread Biscuits
Flakey, buttery and a great combo of heat and sweet! Oh and a kick of sharp cheddar! It is oh so good!
Ingredients
1 ½

cups

all-purpose flour

1½

cups

cornmeal

5

tsp

baking powder

½

tsp

baking soda

½

tsp

salt

½

tsp

pepper

1 ½

sticks

unsalted butter

(cold and cut into cubes)

1

egg

(lightly beaten)

¾

cup

buttermilk

¼

cup

honey

(Beeyond the Hive is best!)

¾

cup

sharp cheddar cheese

(cubed)

1-2

jalapeños
Instructions
In a large bowl, mix the flour, cornmeal, baking powder, baking soda, salt and pepper. Whisk until combined.

Next, add butter cubed pieces to the flour mix and use a fork or pastry blender to mix it together until you're left with course little crumbles.

In a separate bowl, whisk together the buttermilk, egg and honey. Then pour this mixture into the flour/butter mix.

Stir with a spoon until just combined. Make sure not to overmix! Use your hands if needed to bring the dough together.

Fold in the cheddar cheese chunks and jalapeños.

Use a ¼ cup measure and drop batter onto a nonstick baking sheet. You can also press the dough on a sheet of parchment paper or cutting board then use a biscuit cutter to shape the dough into rounds.

Brush the tops with buttermilk and bake for 10-15 minutes, or until the biscuits are golden brown! Drizzle with extra honey on top if you'd like!
Recipe Notes
Recipe Credit: Half Baked Harvest