1/2 cup butter
1 cup honey (Beeyond the Hive is best!)
1 cup heavy cream
1/2 cup brown sugar
1/2 tsp vanilla extract
1/2 tsp sea salt
Hey honey lovers! I am currently hiding in the depths of the Colorado mountains getting some much needed rest, lots of fishing and four wheeling in with my crew. Every year it is mandatory that we make the trip up to my favorite place on earth which is Tincup, Colorado. Tincup is an old mining ghost town with so much adventure and history. It's where I spent all of my childhood summers and I truly think it shaped me into who I am now. I have the absolute sweetest memories of this little hidden gem and I'm so happy to pass those same adventures to my boys. If only I could stay up here for months on end like I did as a little girl!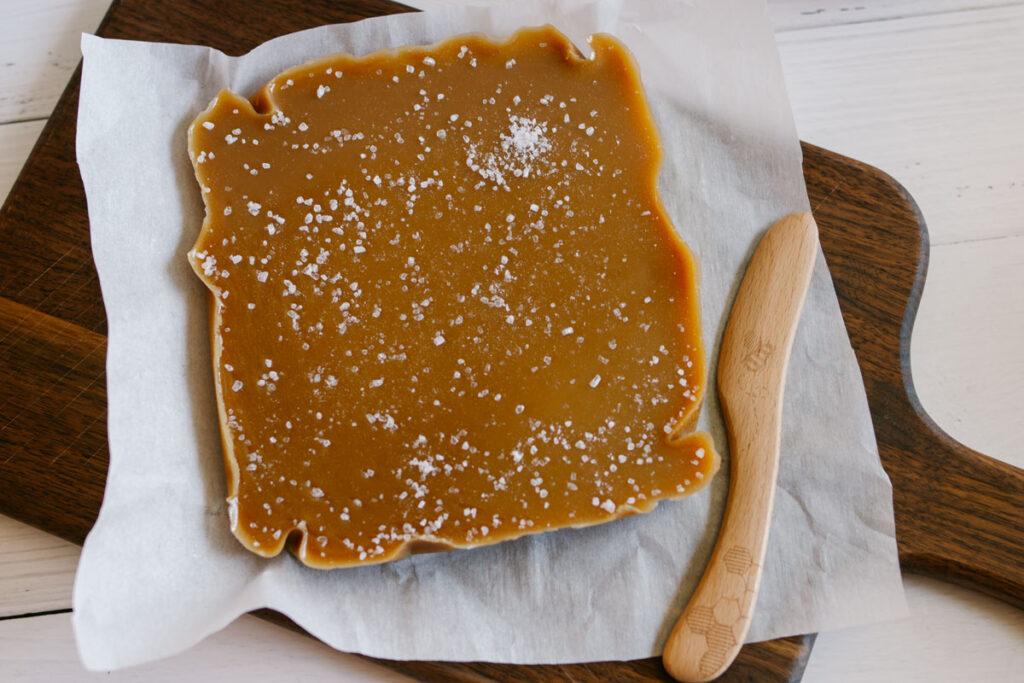 Before our trip started I was cooking up a storm so we had plenty of food and snacks for our Tincup trip. These caramels were on the list and I had to contain myself to not eat them all before we even left for vacation! I am such a sucker for anything sweet and these are a great treat with the perfect hint of saltiness!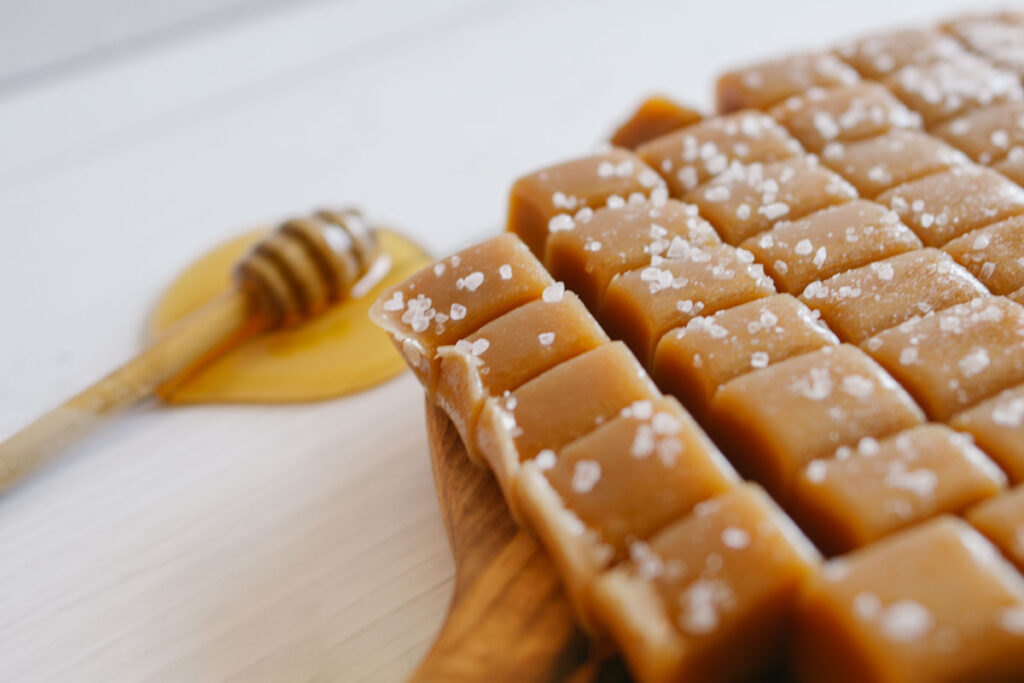 You know I like quick and fool proof recipes so this fits the requirement! These would be great during the holidays to give out to your favorite neighbors or even use as teacher gifts. They are so creamy and delicious that it's hard to resist just one!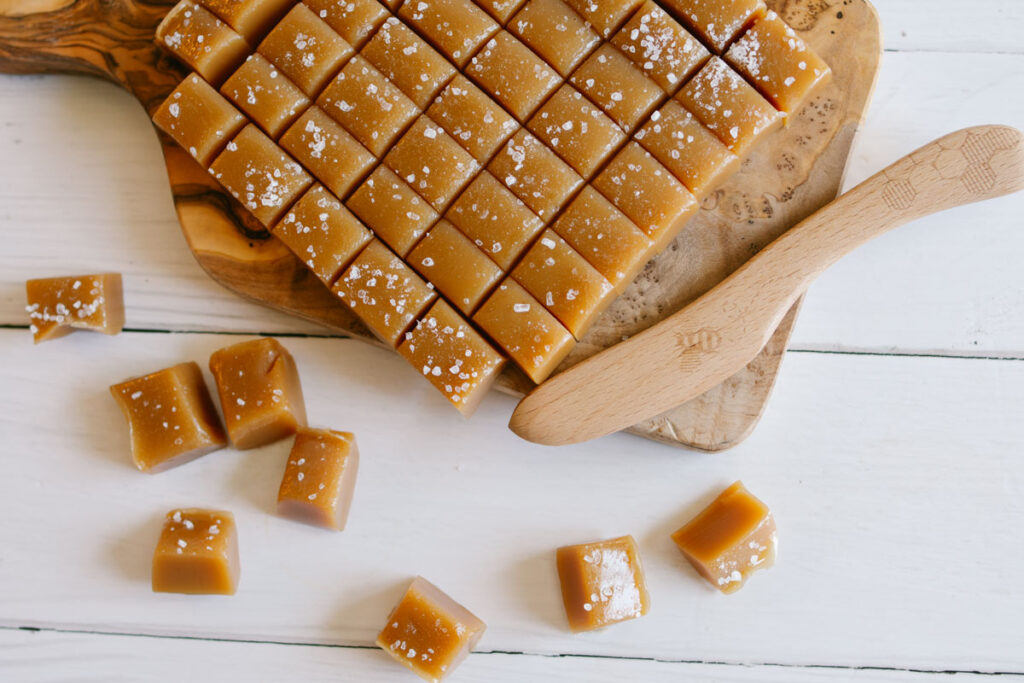 I am completely guilty of eating 2/3 of my first batch! Does anyone else have a sweet tooth as bad as mine? I could probably eat so many that I would get a tummy ache and regret it later. Please tell me I'm not the only one that does this?!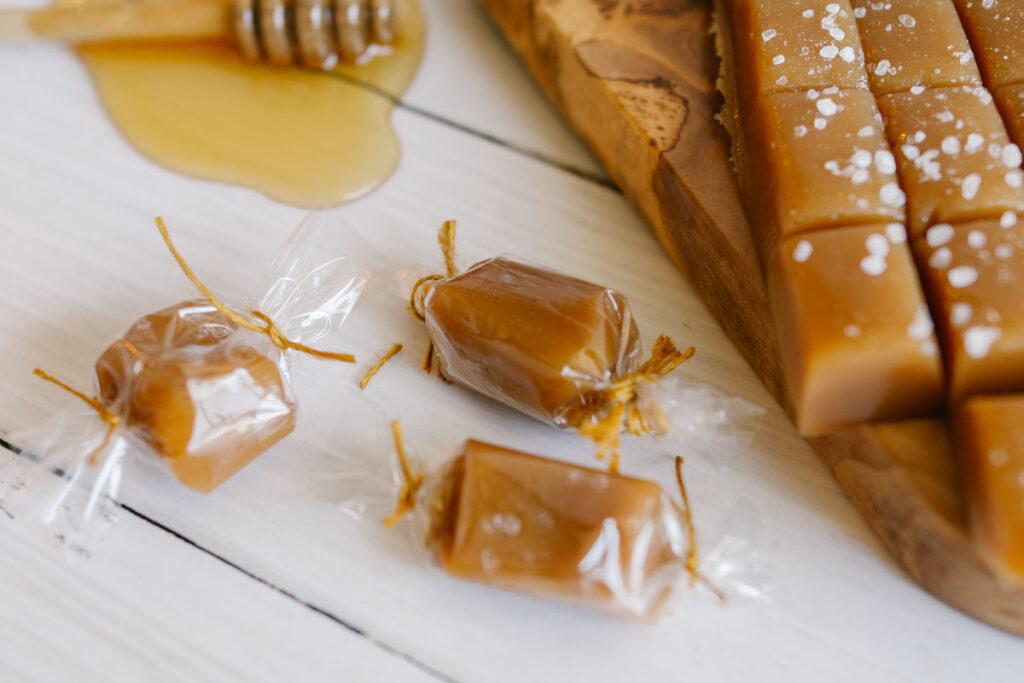 I hope you are all finding some joy during these summer months. It's so important that you stop and enjoy life. I know sometimes I get the blinders on and will keep on working like crazy. I have learned to force myself some time away especially to create some childhood memories for my boys. It's great for my mental health too! There will always be work to do but I know my boys won't be little forever and they will always be my highest priority. So while I am away from work, I appreciate your understanding and patience when the orders take a tad bit longer to ship. Sending you all love and sweetness and please go out and enjoy something you love to do with those you love most!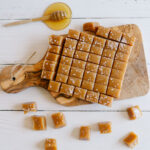 Honey Salted Caramels
Ingredients
½

cup

butter

1

cup

honey

Beeyond the Hive is best!

1

cup

heavy cream

½

cup

brown sugar

½

tsp

vanilla extract

½

tsp

sea salt
Instructions
Make sure to have all ingredients measured and ready to go. It makes everything easier to just grab it quickly as you go!

**Easy tip..spray your measuring cup with cooking spray BEFORE you add the honey. It makes it much easier to get every last drop out of your measuring cup and it's not a sticky mess!

Line an 8×8 baking pan with parchment paper so it comes up about 1 inch on all sides. Then lightly spray with cooking spray. Set aside.

In a medium size pan, add the butter and melt over medium-high heat.

Add the honey, cream and brown sugar. Gently stir with a whisk. Reduce heat to just above medium heat.

Attach the candy thermometer to the side of your pan but make sure it doesn't touch the bottom of the pan!

Once the mixture starts to boil, reduce the heat to just below medium and let it simmer for 30-40 minutes until it reaches 250 degrees F.

One it reaches 250 degrees, remove from heat, add the vanilla and stir with your candy thermometer.

Pour the caramel into your 8×8 prepared pan.

Cool until room temperature then sprinkle with sea salt.

Place in fridge and let chill for at least 3 hours before lifting the parchment out of the pan and cutting it. Wrap into individual pieces if you like. Store in fridge and enjoy the sweetness!