4 Chicken Breasts
1 pkg White Tortillas, charred
1 Whole Pineapple, cubed
1 Medium Yellow Onion, thinly sliced
1 bunch fresh Cilantro
1/2 cup Beeyond the Hive Wildflower Honey
1 7oz can Chipotle Peppers in Adobo Sauce (3 peppers diced)
2-3 tbsp Adobo Sauce
1 tsp McCormick Ground Cumin
1 tsp McCormick Chili Powder
1 tsp McCormick Paprika
1/2 tsp McCormick Garlic Salt
1/4 tsp McCormick Freshly Ground Black Pepper
Fresh Lime Wedges
Welcome back my guest blogger, Naomi Cook with A Life Delicious! This recipe is amazing so give it a try!
Everybody, everybody! Today is the day that you'll start to see the changes in my photos roll out.
Because with a new, legit camera comes the ability to do so many different fun and amazing things. So I introduce to you these yummy, and oh so delicious Chipotle Honey Chicken Tacos. And I have to say, they are the BOMB! I've tested this recipe a number of times, and I believe I've landed on the perfect balance of spicy and sweet. To be honest, this recipe is quite simple and idiot proof. (*For me it was made all the more simple, because I used my favorite McCormick spices, Beeyond The Hive Raw Wildflower Honey and a nifty thrifty kitchen tool that cored and peeled my whole pineapple in just seconds, and it all turned out perfectly!)
You literally just throw your chicken, spices, honey and chipotle peppers into the slow cooker and let it simmer away — becoming all sweet and juicy and glorious. The only thing you really need to think about is prepping your garnishes right before you eat. See that's pretty simple, right?!?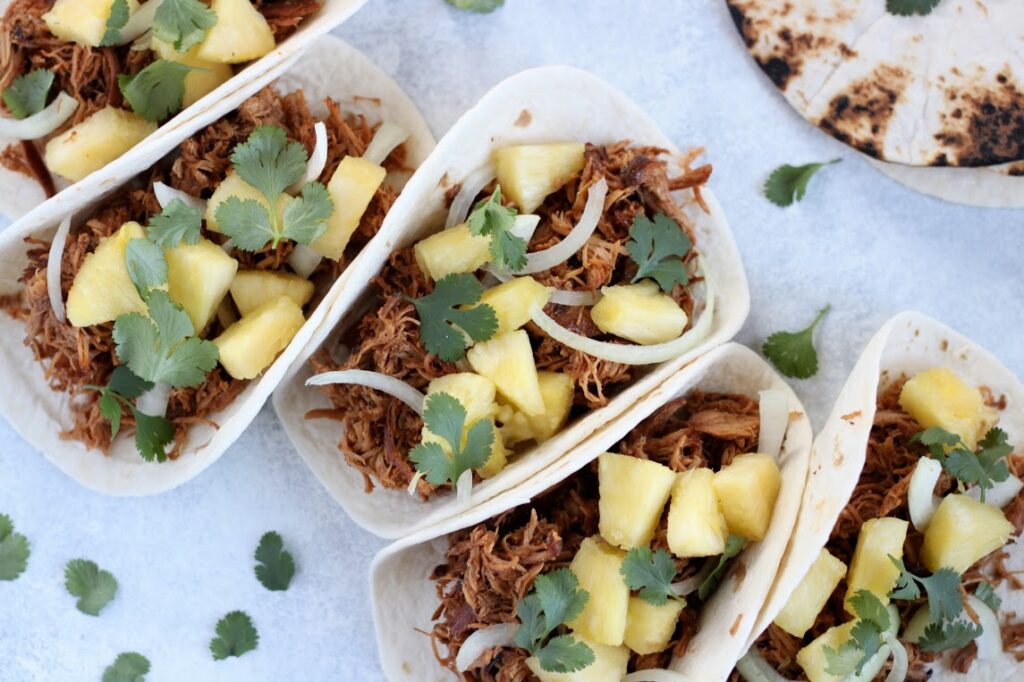 And as you know, tacos are a pretty versatile food and are perfect for a game day lunch, an easy weeknight meal or a laid back outing with some friends. So you can bet, I'll be making these bad boys yet again for Superbowl weekend. And with the leftovers, I'll then prep my Chipotle Honey Chicken Nachos as an appetizer to eat during the actual game. (You should check that goodie out too!) So you see, it's a win win all the way around! Both lunch and a dinner appetizer are taken care of for you.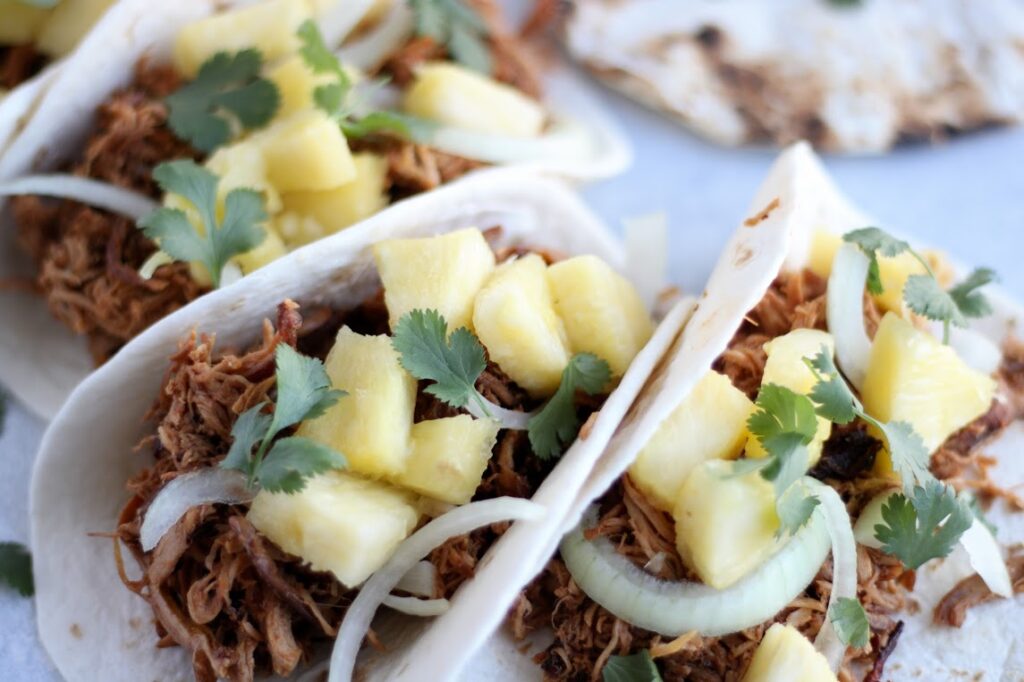 Before I go, here are a couple more game day eats to add to your party list as well:
And don't forget to check out this pineapple kitchen tool that I mentioned above. The first option is for Prime members and the second one is if you are not (It's definitely worth it in the end because buying pre-cubed is always way more expensive and you get way less in the container):
Rienar Easy Tool Stainless Steel Fruit Pineapple Corer Slicer Peeler Cut
Advance World NEW 3 in 1 Stainless Steel Easy Kitchen Tool Fruit Pineapple Core Slicer Cutter Peeler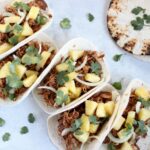 Slow Cooker Chipotle Honey Chicken Tacos
Spicy sweet chipotle chicken tacos cooked in a slow cooker, and topped with sweet pineapple and crisp onion! Perfect for a weeknight meal, game day or just because!
Ingredients
4

Chicken Breasts

1

pkg White Tortillas

charred

1

Whole Pineapple

cubed

1

medium Yellow Onion

thinly sliced

1

bunch Fresh Cilantro

1/2

cup

Beeyond The Hive Raw Wildflower Honey

1 7

oz

can Chipotle Peppers in Adobo Sauce

3 peppers diced

2-3

tsps

Adobo Sauce

1

tsp

McCormick Ground Cumin

1

tsp

McCormick Chili Powder

1

tsp

McCormick Paprika

1/2

tsp

McCormick Garlic Salt

1/4

tsp

McCormick Freshly Ground Black Pepper

Fresh Lime Wedges
Instructions
In a small dish, add all the spices and mix until thoroughly combined.

To a slow cooker, arrange the whole chicken breasts and completely coat both sides of the chicken with the spice mixture. Top with the diced chipotle peppers, sauce and honey.

Cover and cook on high for 3 - 3 1/2 hours, or cook on low for 6 - 6 1/2 hours.

Pull out the chicken and shred with two forks. Then add the meat back to the slow cooker and stir into the juices. (There will be quite a bit of liquid, but once the chicken is shredded and added back in it will be nicely absorbed).

Lightly char the tortillas on medium-low flame of a gas stove, or broil on high in the oven. (*Either way, don't leave them unattended).

Top with onion, pineapple, cilantro and lime wedges.
Recipe Notes
*Slow Cooker Times: Whether you cook the meat on low or high, make sure to check the doneness at the 3 hour or 5-6 hour mark. If it is overcooked, it will taste dry and loose its flavor