4 Cups Frozen Strawberries
1/2 Cup Plain Yogurt (Noosa is our Favorite!)
1/4 Cup Honey (Beeyond the Hive of course)
1 TBSP Fresh Lemon Juice
Hey Honey Lovers! We are just over here rocking our social distancing and starting to enjoy some nicer Colorado weather. There is nothing like good weather and sunshine to put me in a better mood! We have about 4 more weeks of at home schooling so I can feel that summer itch coming on fiercely! I hope you are all able to stay positive and definitely healthy over the weeks to come! Speaking of healthy…lets dive into this healthy dessert option!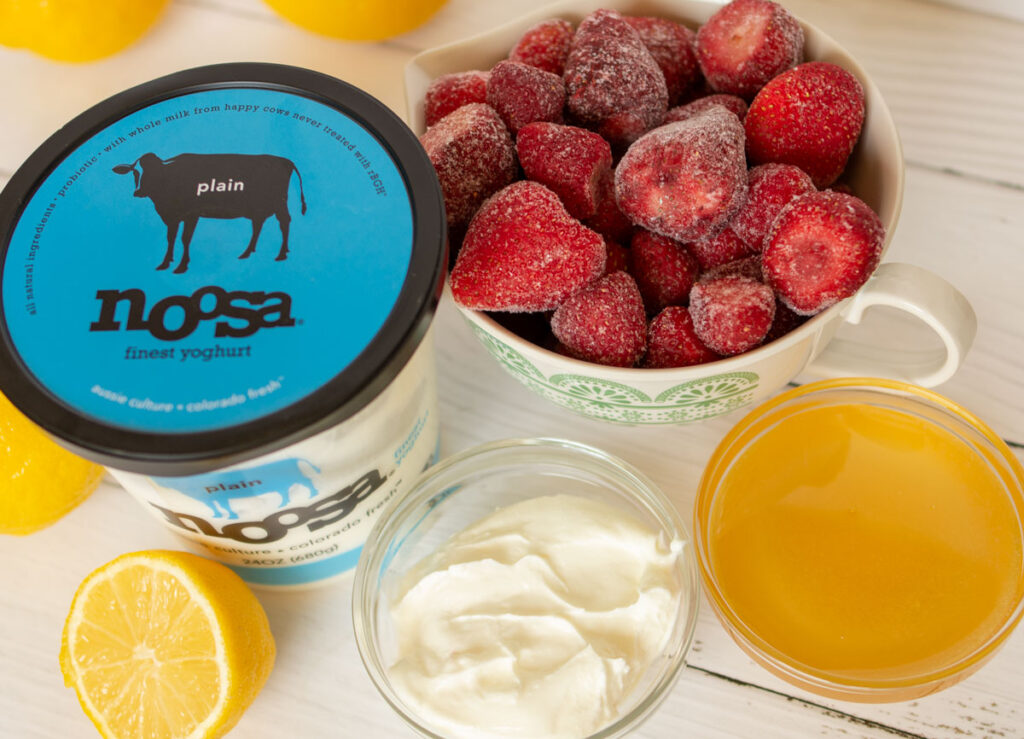 So I have to introduce this recipe as one of my absolute faves. If you are to make any recipe of mine….make it this one! I promise! It is such a summery treat for our whole family and it only uses 4 ingredients and 5 minutes. Yes, you heard me. Only 5 minutes! My boys would have me make this every single day if it was up to them. It's just that perfect sweet treat to end most of your spring and summer dinners with while you're sitting outside watching the kiddos play.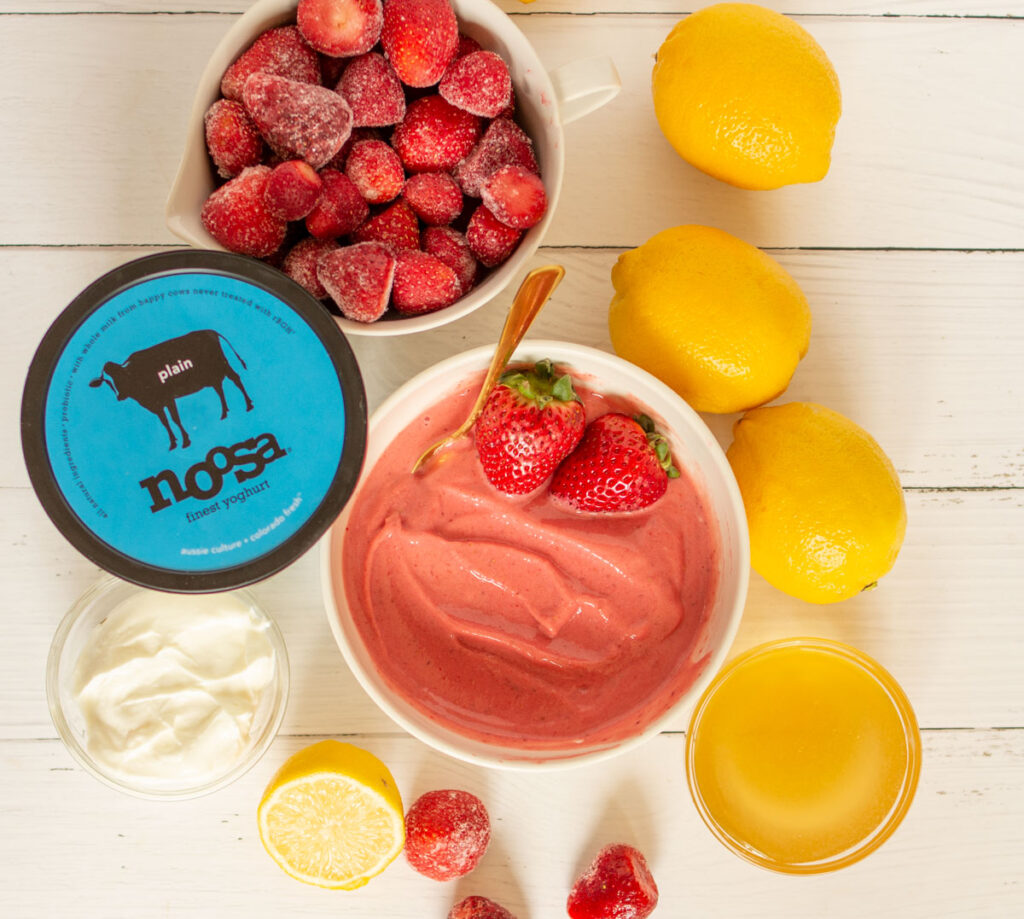 One of the things I love most about this recipe is that you can create so many different versions. Basically whatever frozen fruit you might have on hand is really all you need. I have tried this recipe using frozen peaches and even frozen cherries. You can't go wrong! You can even get wild and crazy and freeze a couple of bananas and add it to some strawberries. The combinations are endless.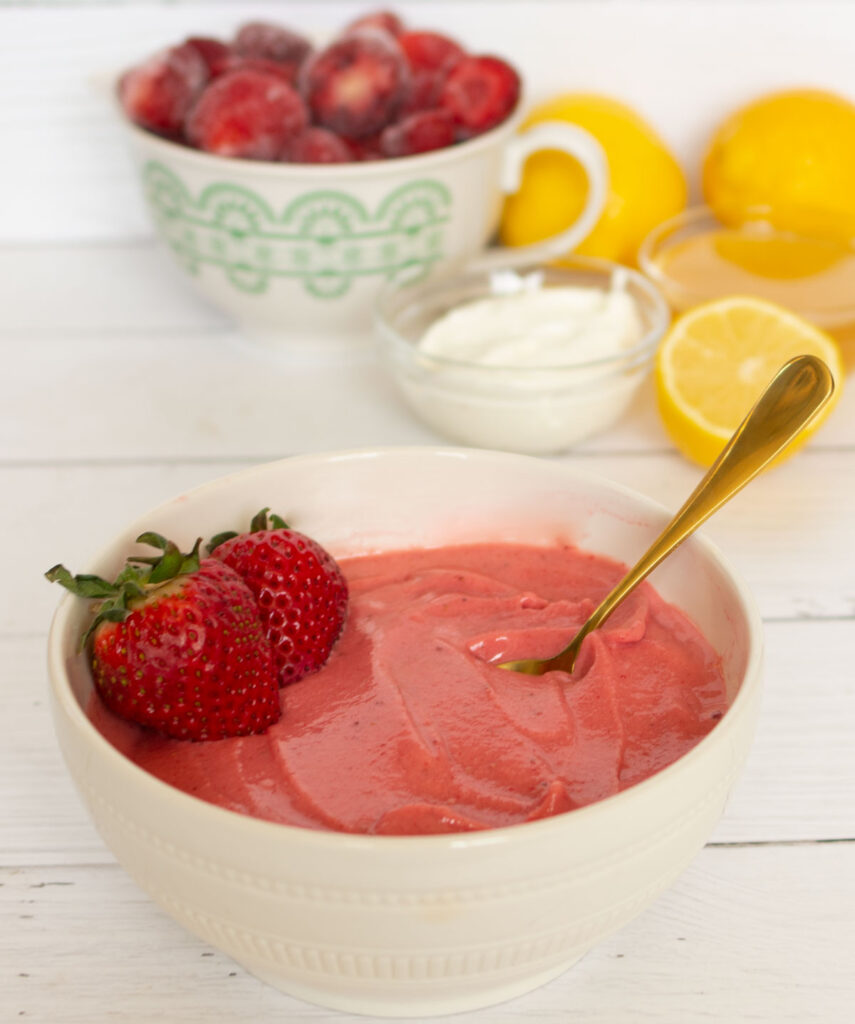 I think the key to this recipe is using quality ingredients. I sure hope you use our Beeyond the Hive honey but I think you must try this recipe using some of Noosa's plain yoghurt. Noosa has been my customer from the VERY beginning! I am talking over 10 years now and they have been the absolute best company to work with. They are a national brand so you can find them all over the states. You must try their plain yoghurt in this recipe but you need to check out their other amazing flavors! They are all delicious and I can never pick just one as my favorite. That's how good they are. They actually use our honey to sweeten ALL flavors of their yoghurt (except plain of course) so if you support Noosa, you in return support us! Their yogurt is above and "beeyond" yummy!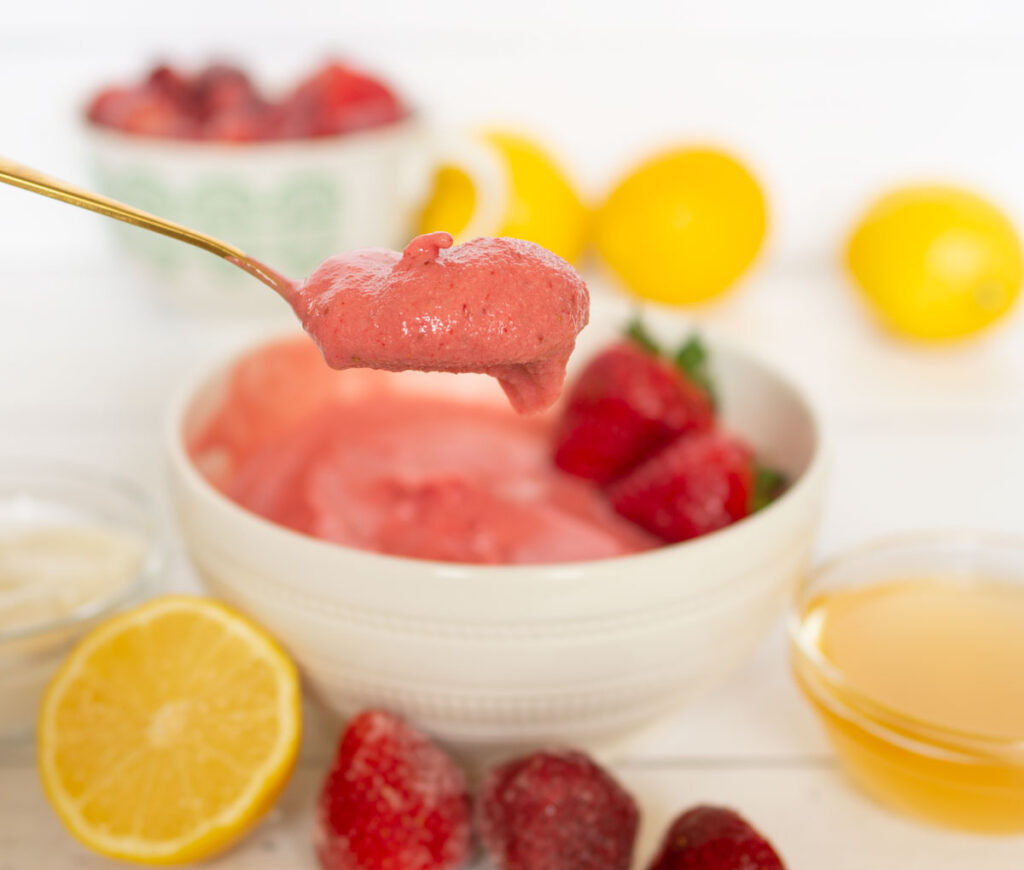 Have fun with this one folks! I would love to hear your feedback or send us pictures on social media and be sure to tag us. I'm off to make this healthy Frozen Yogurt for the millionth time because it is 70 and sunny today so we are grilling out for dinner! This is one treat I don't feel guilty about that's for sure! Enjoy and I'll catch you next time honey lovers!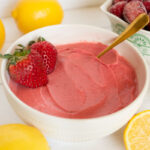 Healthy Strawberry Frozen Yogurt
4 ingredients and only takes 5 minutes! Yes, you heard me. Only 5 minutes.
Keyword:
Healthy, honey, Treat, Yogurt
Ingredients
4

Cups

Frozen Strawberries

¼

Cup

Honey

(Beeyond the Hive is best!)

½

Cup

Plain Yogurt

(We love Noosa Yoghurt)

1

TBSP

Fresh Lemon Juice
Instructions
Add all ingredients to the food processor. Turn on and let it go! For the first minute or two you may have to stir a few times just to help the food processor along especially with frozen strawberries!

Process until creamy, about 5-10 minutes! That's it!
Recipe Notes
**If you have leftovers you can freeze the remaining frozen yogurt!
**If you like a more tart flavor, just add 3 TBSP of honey instead of the 1/4 cup. I like mine more sweet so more honey it is!
**If you only have fresh fruit on hand you can certainly use that too. Just make sure to freeze them completely before you start. They must be fully frozen to make the right consistency.