1 Cup Sugar
1/2 Cup Light Corn Syrup
1/4 Cup Honey
1- 12oz jar of Creamy Peanut Butter (or 1 1/4 cups)
4 Cups Cocoa Puff Cereal
Hey honey lovers! Happy Thursday! I have been plugging away over here trying to wrap up our last week of remote school for the boys so life is kind of surreal right now. My middle son, Brooks, just graduated Kindergarten and it was such a sad event compared to what it should be. Even though I am feeling bummed, I can't help but think how horrible it would be as a high school senior this year. I absolutely loved my senior year and can't imagine not having sporting events, prom, graduation and many other milestones! So we will celebrate our recent kindergarten grad in a different way and move on with our social distancing lives right now.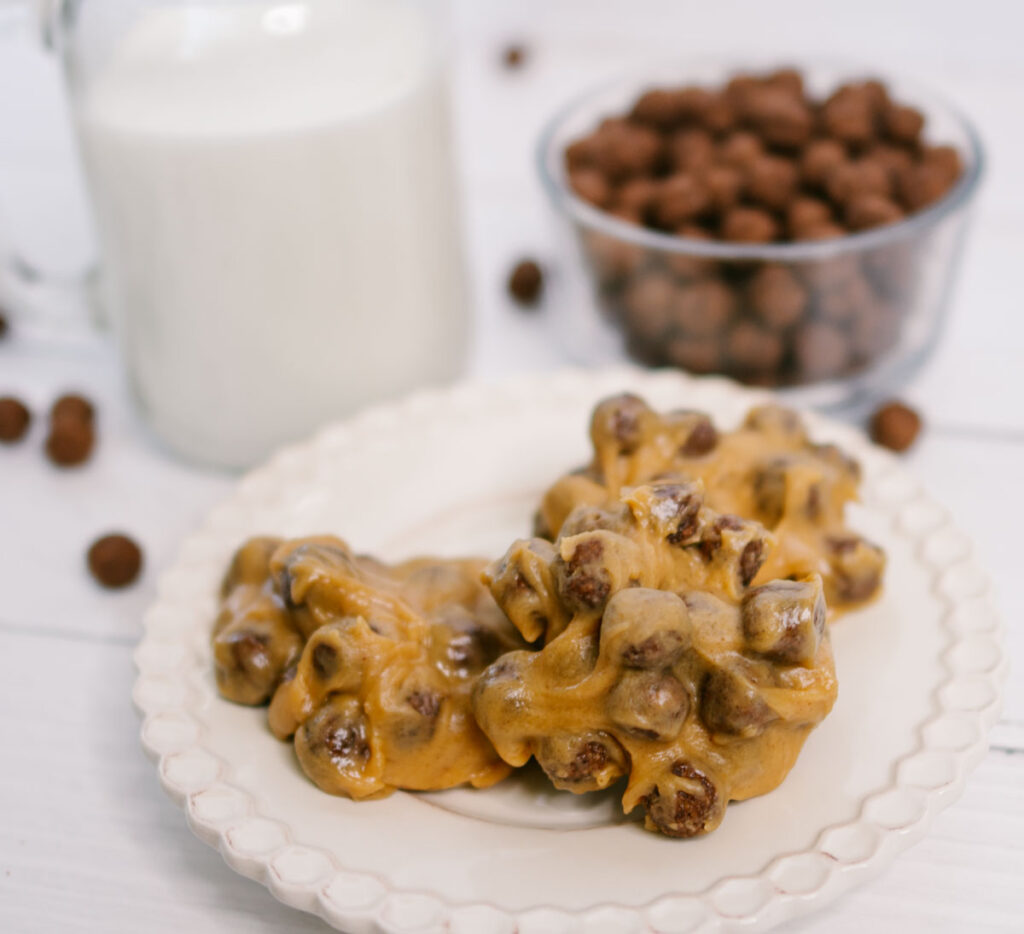 Now on to a sweeter subject. This recipe. An amazing friend actually texted me this recipe a few weeks ago because she was making it for her husband. It, of course, had honey as an ingredient and her grandma always made them for her. They quickly became her husband's favorite too and I am beyond happy she shared it with me because they were a major hit in our house. And I mean MAJOR! I even had a girlfriend come over one night for some porch swing girl talk (which is a necessity when you live with all boys) and she couldn't resist either. Therefore they get my stamp of approval and I hope you enjoy them too!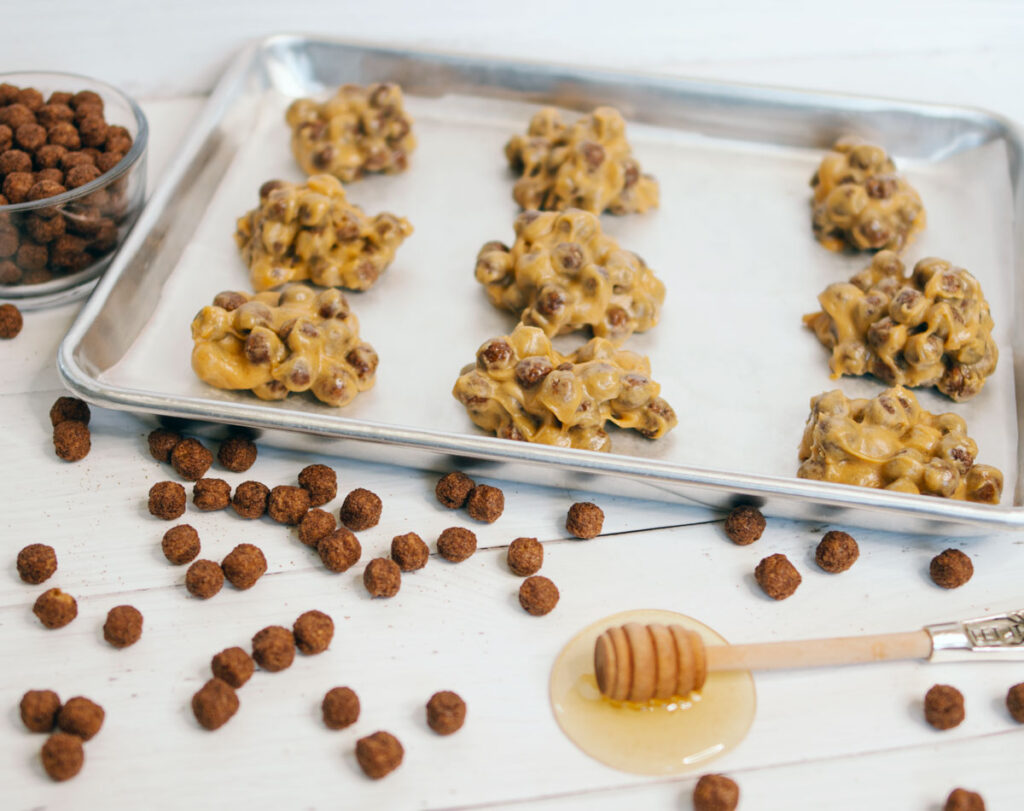 On a side note….these aren't the healthiest cookies i've ever made. But now that I think about it, i don't think healthy and cookie should go together! Am I right? I have such a sweet tooth and the only reason I work out 5 days a week is so that I can consume my sweet treats! It's all about balance and I work on that concept every single day.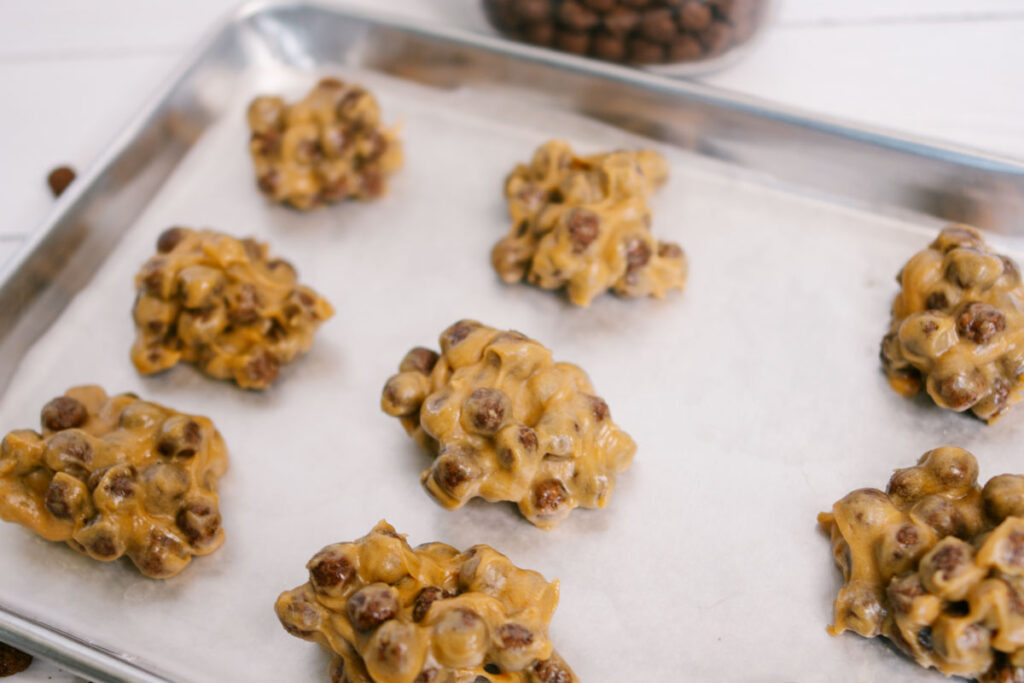 These cookies are super quick and easy. Also please note that they are not messy or gooey. In the pictures they look like they would be an absolute mess but they actually set up and slightly harden so you don't have peanut butter fingers once they are cooled and ready to eat!
They are originally called "Chocolate Peanut Butter Drops" but I renamed them Cocoa Puff Cookies because it was more fun to say:) So thank you Grandma J for your amazing old school recipe. We will continue this legacy for many more years because it is a definite winner in our household!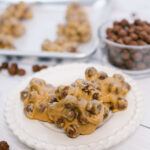 Cocoa Puff Cookies
Ingredients
1

Cup

Sugar

1/2

Cup

Light Corn Syrup

1/4

Cup

Honey

(Beeyond the Hive is best)

1

12oz Jar

Creamy Peanut Butter

(or 1 ¼ Cups)

4

Cups

Cocoa Puff Cereal
Instructions
Combine your sugar, corn syrup and honey into a large pan. Bring to a boil stirring constantly.

Remove from heat, add peanut butter and stir.

Add Cocoa Puffs and combine.

Drop little clusters onto wax paper. Let it cool and they will be ready in no time! They are not gooey or messy after they cool. They form into a cookie cluster so enjoy this little slice of heaven!