1/3 Cup Shortening
1/2 Cup Sugar
2 Eggs
1-3/4 Cup Flour
1 teaspoon Baking Powder
1/2 teaspoon Baking Soda
1/2 teaspoon Salt
1 Cup Mashed Ripe Bananas (2 bananas)
1/2 Cup Walnuts (optional)
Hey all you honey lovers! We are in the midst of the Coronavirus lockdown so please forgive me as I lose my mind and sanity! It's been a doozy of a couple of weeks but in the same aspect, not much has changed for us. We live in the country so we are naturally distanced from everyone anyhow. I think the biggest hurdle has been with the boys and their remote home schooling. I am such a go-getter but I feel like I already had a full plate before this COVID19 crud came along! Now I have to add home school to my list of things to do? It's been challenging but our school and especially the teachers have been absolutely amazing. I realized we are all navigating this unknown territory together and it's been pretty cool to see everyone pulling together.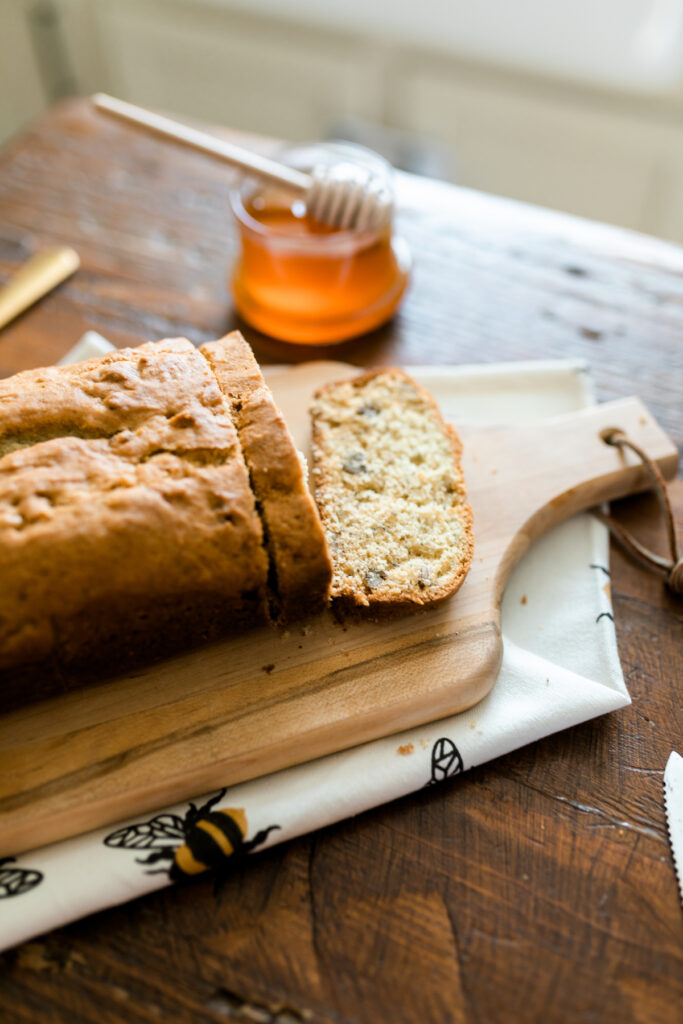 Our days have been very busy and lacking any kind of structure or schedule. This way of living for me is a struggle because I thrive off having a routine but I guess the more relaxed schedule does have some perks. If I feel like making a loaf of banana bread while the kids are doing school work, by golly I'm gonna do it! And you better believe I did!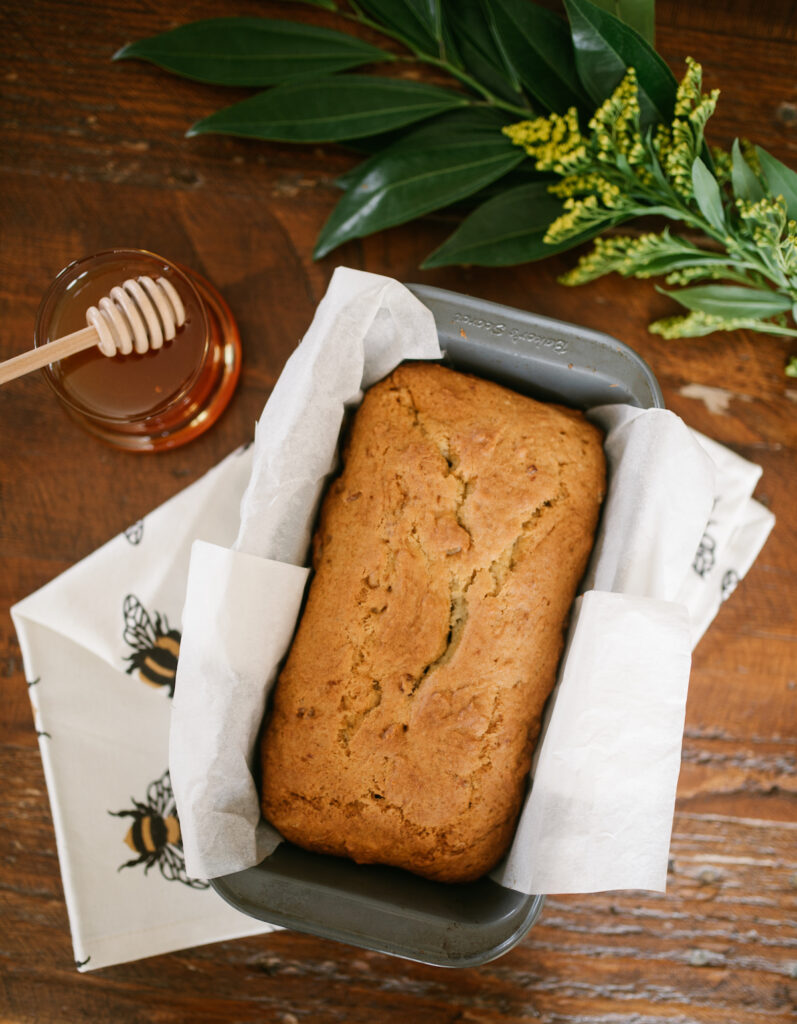 This banana bread recipe is an absolute classic! It is a family recipe and I can remember my mom making this bread all the time when I was a little girl. Does it contain honey? No. But you better believe we slather the warm bread with butter and honey! You just HAVE to in order to enjoy life to the fullest right?! Maybe one day I'll substitute the sugar in the recipe for honey to see how that comes out. But in the meantime I will just drizzle that sweet goodness on top as soon as it comes out of the oven and call it good!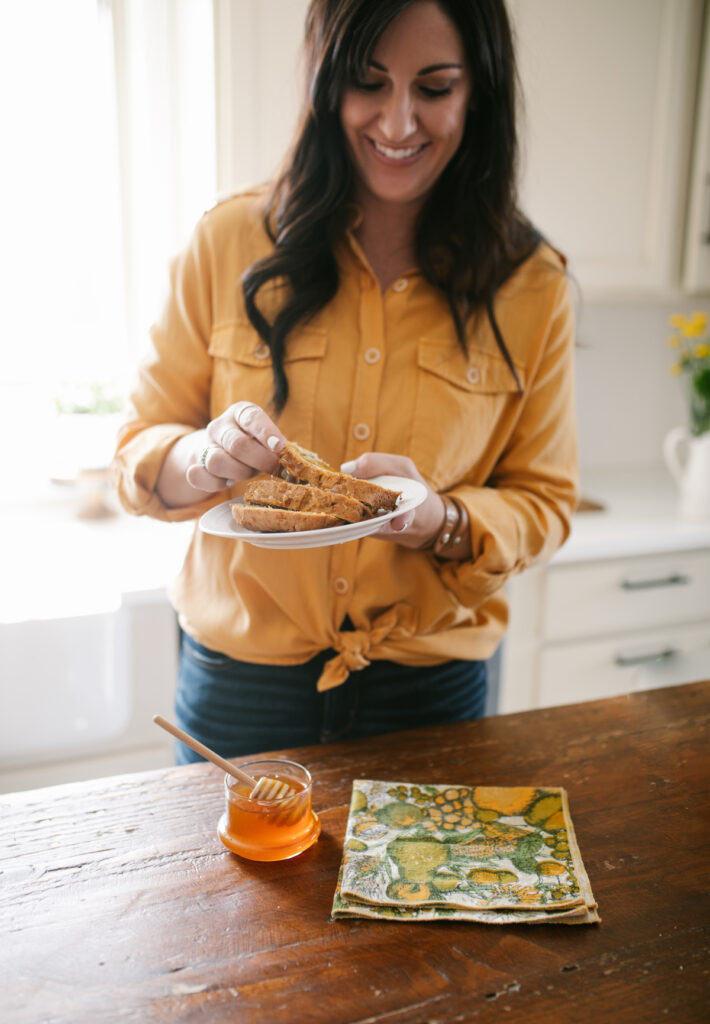 I sure hope you are all staying healthy and sane during this crazy time in our lives. If you're like me, you have some good days and you have some bad ones but hopefully we can all stay healthy and get back to our normal lives as soon as possible! We must choose to see the sweetness in every situation and I make sure that my focus stays on all the positives that are happening right now. What are some positives that you see right now? List them below! Also, give the recipe a try and make sure to drizzle EXTRA honey on it just to be wild and crazy! Til next time you honey lovers!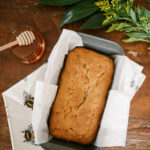 Banana Bread Drizzled with Honey
Classic banana bread recipe that is oh so yummy!
Keyword:
Banana, Bread, honey
Ingredients
⅓

Cup

Shortening

½

Cup

Sugar

2

Eggs

1 ¾

Cup

Flour

1

tsp

Baking Powder

½

tsp

Baking Soda

½

tsp

Salt

1

Cup

Mashed Ripe Bananas

about 2 bananas

½

Cup

Walnuts

Optional
Instructions
Cream together shortening & sugar. Add egg and beat well.

Sift together dry ingredients (flour, baking powder, baking soda, salt)

Add to your creamed mixture alternating with the mashed banana.

Stir in the nuts (optional)

Pour into well greased loaf pan.

Bake 40-45 min until done. Cool on a rack.

Slather some butter and drizzle that honey! Enjoy all that is good in the world!