Ingredients:
1 Cup Sugar
2 Tablespoons Water
1/3 Cup Honey (Beeyond the Hive preferably!)
Cinnamon Essential Oil (Or lemon would be great too) *Optional
Sucker Sticks
Candy or Sucker Molds *Optional
Candy Thermometer
Hey honey lovers! I hope you're having a great week. I am getting pretty excited for Spring to arrive and hopefully I can stop worrying about the cold or flu season striking my boys. It seems like we were lucky during the earlier winter months but I think all the crud has hit us all at once. Last weekend we ended up with the sniffles so I decided to start recipe testing with honey suckers and honey candies. I actually tried a few different recipes but ended up merging a few of them and created my own! So here it goes….hope you like it! And it is so easy so give it a try! Here is what you need: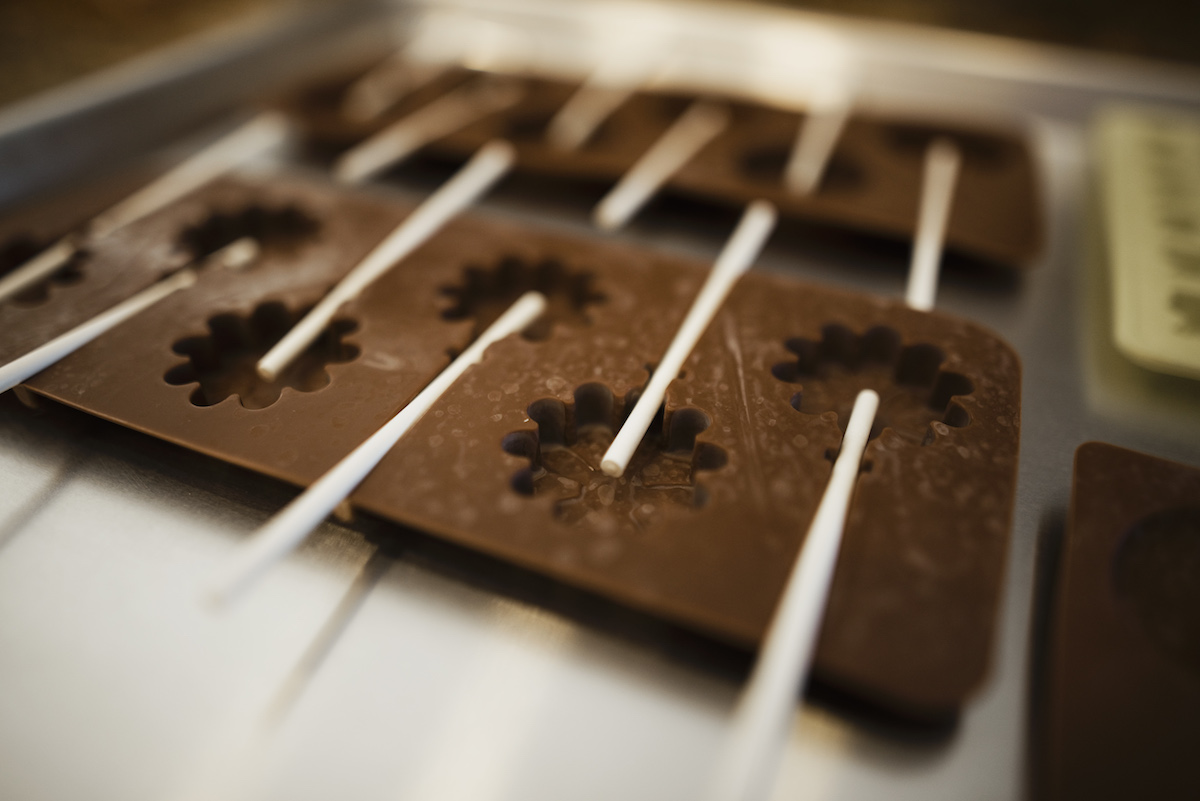 Get all of your molds ready to go! You can put the sucker sticks in now or after you pour. It's all up to you! You can spray your molds with cooking spray too but I didn't find it necessary.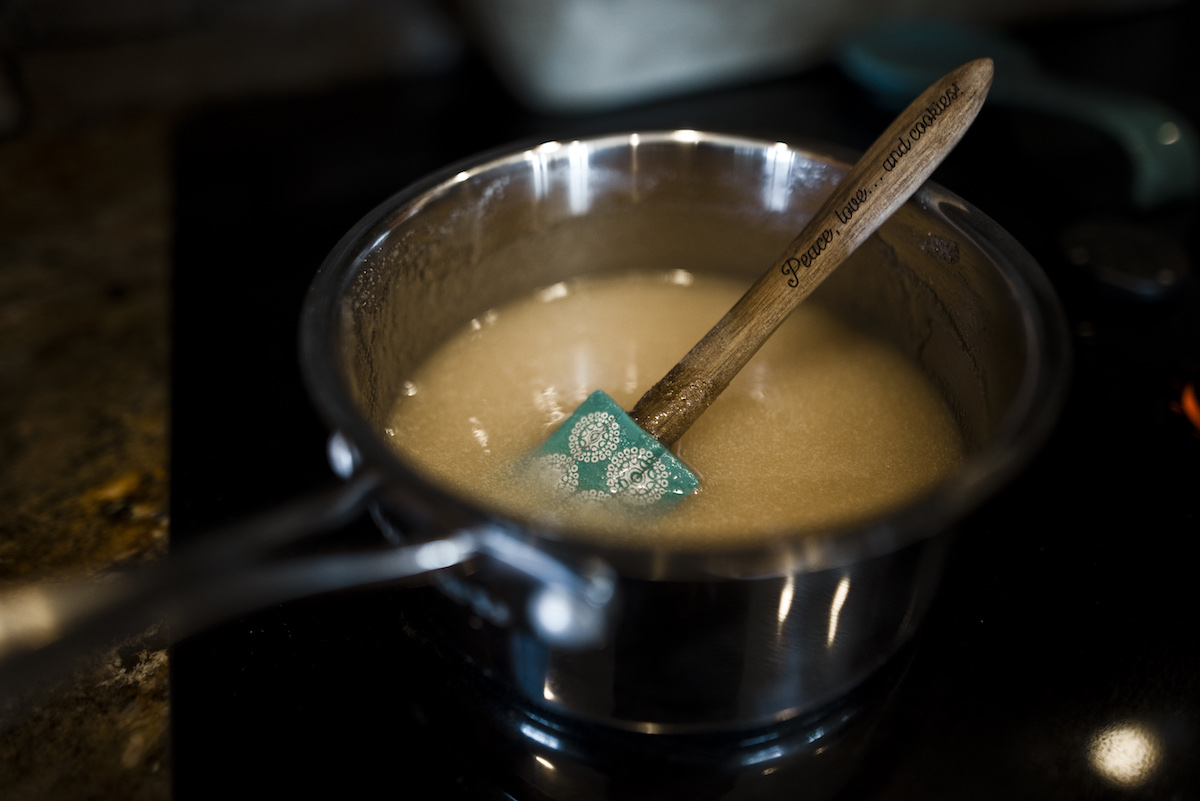 On medium heat stir constantly and get that sugar dissolved!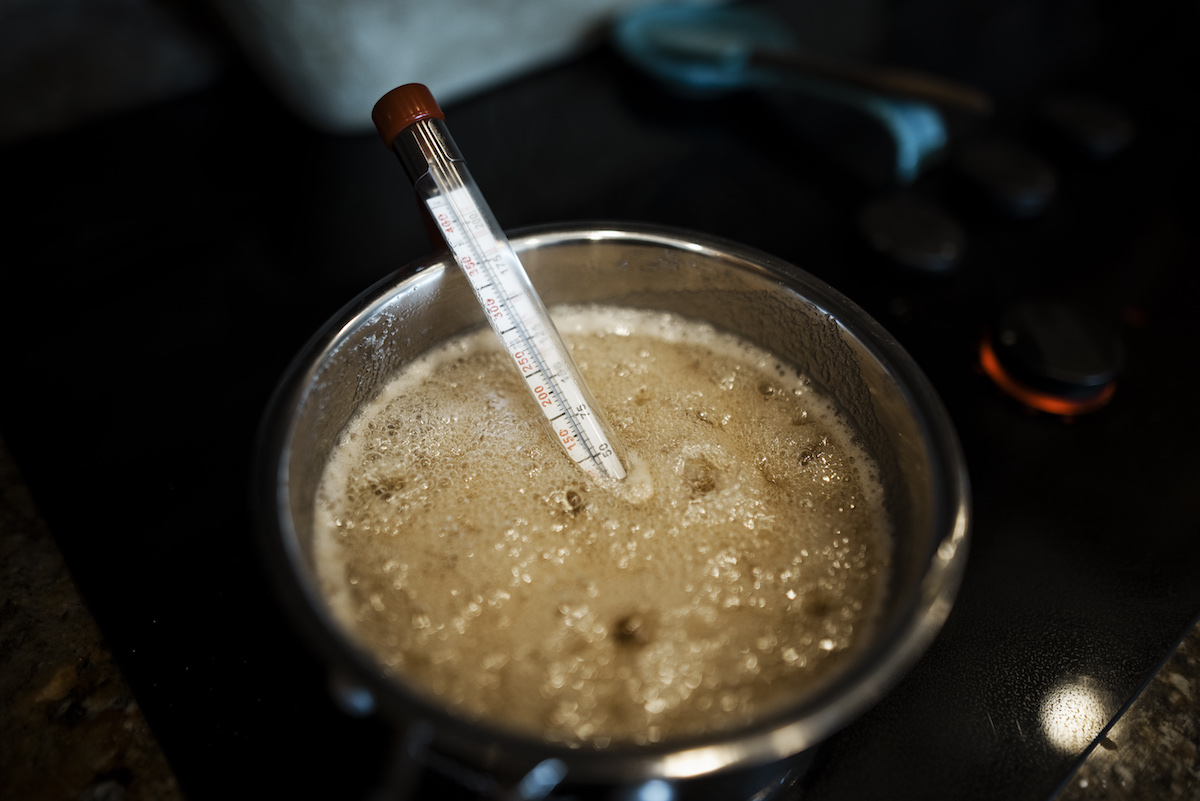 Once your sugar is dissolved then turn up the heat! Put in your thermometer, DO NOT STIR and let it boil. You want your temp to hit 300. Your house is going to smell amazing! This is truly what our honey house smells like when we extract honey. Awwww….can you smell it now? Pure sweetness!
For this recipe I used a cinnamon essential oil. I didn't want it to taste too spicy so I only added a couple of drops. You can adjust this to your liking plus I am anxious to try other ideas like vanilla or lemon. I buy all my spices and oils from Savory Spice Shop because they are amazing and of course they carry our honey! You can order here: https://www.savoryspiceshop.com/extracts/cinnoil.html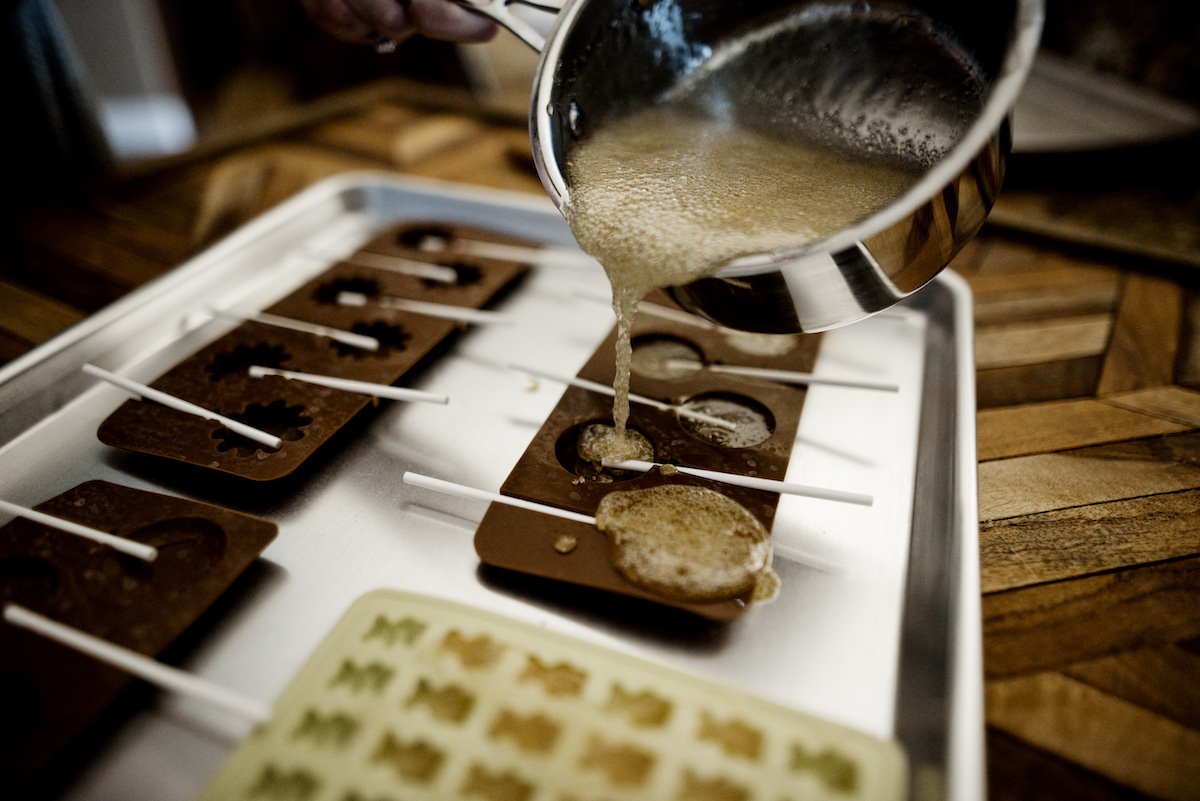 Once your mixture hits 300 degrees it is time to pour. You should wait a quick minute to let the bubbles settle down. Otherwise you will over pour your molds like I did in the picture! If you choose to forgo the molds just pour little circles on your parchment paper then put your sucker stick in the middle.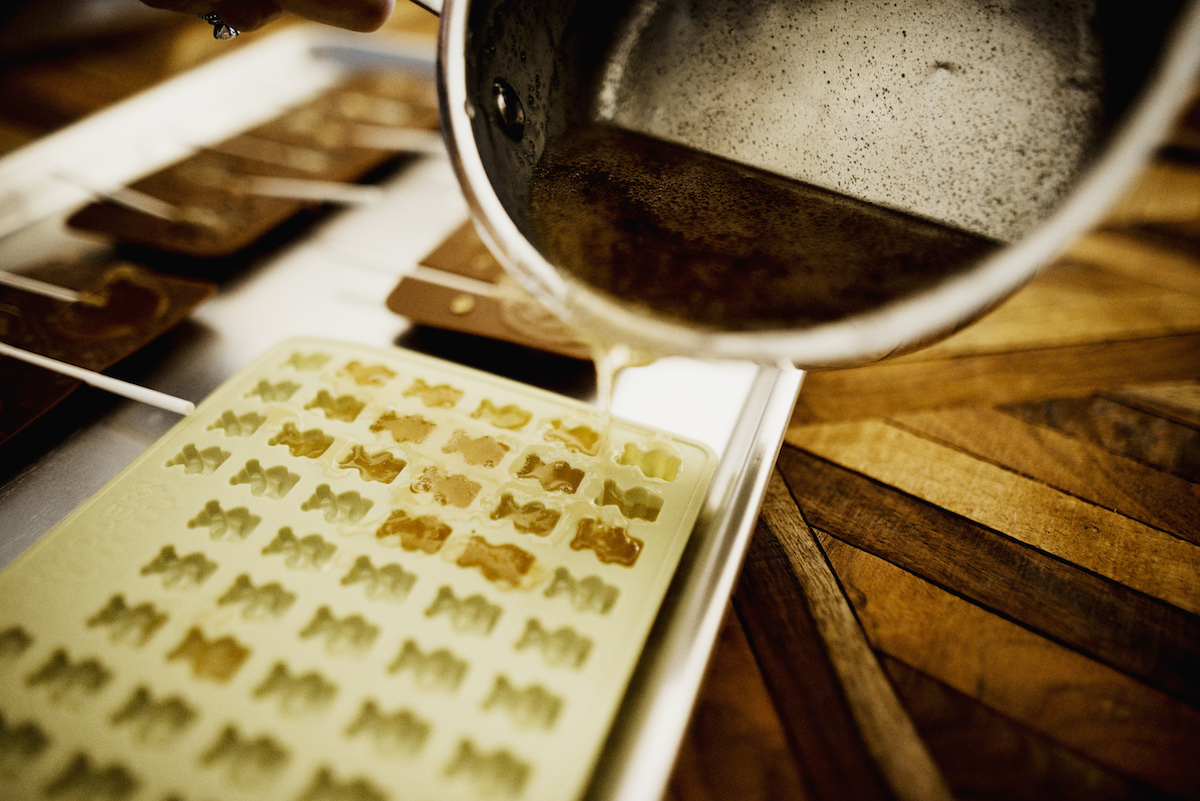 These little gummy bear molds are super hard to pour by hand. I believe you can buy a little dropper to help your accuracy but of course I was too impatient! You just have to have a steady hand and if you over pour these a little it's no biggie! These bear molds where a huge hit plus they are small enough and safe enough for my boys. I bought all of my molds on Amazon.
Hope you give it a try and if you do please let me know how much you love them! I made these a week ago and my kids, girlfriends and neighbors are already requesting me to make more! They are handy to have around whether you have a cough or just need a little something sweet throughout the day. Enjoy the sweetness my friends!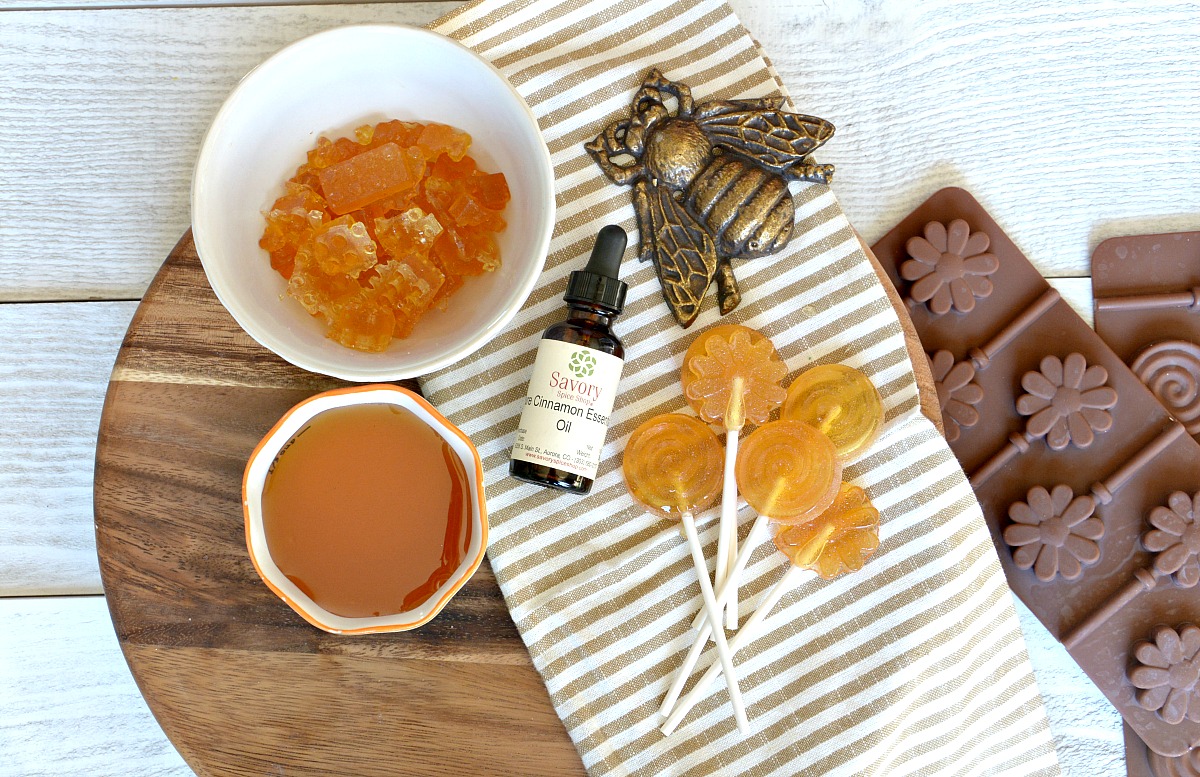 Ingredients
1 Cup Sugar
2 Tablespoons Water
⅓ Cup Honey (Beeyond the Hive preferably!)
Cinnamon Essential Oil (or Lemon would be great too) *Optional
Sucker Sticks
Candy or Sucker Molds but not necessary
Candy Thermometer
Instructions
If you're not using sucker or candy molds I would have a cookie sheet ready to go with parchment paper or other liner. If using any type of molds I would set them on a cook sheet just in case you have over flow!
Place the Sugar, Water and Honey into a pot and turn on medium heat
Stir until the sugar is dissolved
As soon as the sugar is dissolved, go ahead and place your candy thermometer into the pan and turn the heat up to high.
Let the sugar mixture reach 300 degrees WITHOUT mixing!
As soon as it reaches 300 degrees turn off the heat and you can add your Cinnamon or Lemon Essential Oils at this point. Or go all natural and skip the oils! It will taste great with or without!
You'll need to swiftly start pouring the candy mixture into the molds. Or if you are going without any molds just pour little dollops on your parchment lined cookie sheet.
Add your sucker sticks.
Let the suckers cool and harden. Enjoy!
https://beeyondthehive.com/recipes/honey-suckers-and-candy/