1 Cup Nature's Earthly Choice Organic Farro, cooked
4 Peaches, diced
1/2 lb. Strawberries, hulled and diced
1 medium Cucumber, diced (skin removed)
3 Peaches n' Cream Corn on the Cob or another sweet corn, shucked and cooked
1/2 Shallot, diced
Cilantro, a good handful
1/4 Cup Extra Virgin Olive Oil
1 1/2 Tbsps Beeyond the Hive Raw Honey
1 Lime, freshly squeezed juice
Salt to taste
Freshly Ground Black Pepper to taste
Hi all! Welcome the bee-autiful and talented guest blogger Naomi! I am in huge denial about this fall and winter weather we are having! Sooooooo I've decided to make this recipe by Naomi from A Life Delicious. Even though this is the season of heavy and hearty comfort food I am still craving light and fresh! So here is her recipe and give it a whirl! Jacy
Who else besides me is trying to hold on to all things summer for just a bit longer? I mean, I know we've transitioned into September already, where you start to see apple this and pumpkin that, but seriously…it's still pretty hot where I live, and my garden is still in full swing. Plus, the last official day of summer isn't until September 22nd.
My plan is to keep going with the warm weather and enjoy it until I'm forced to change. So here's a recipe to show off all of the late summer goodness!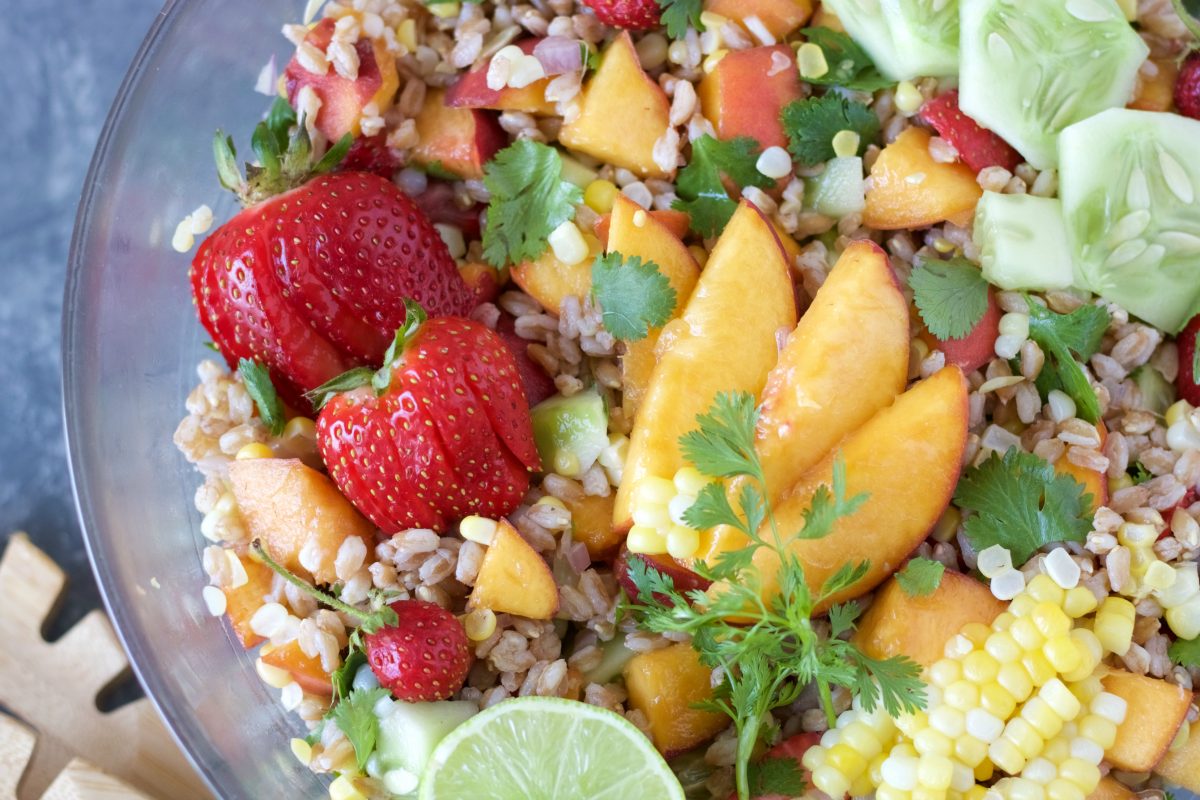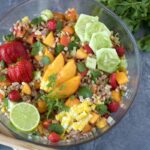 Peach Cilantro Farro Salad
This Peach Cilantro Farro Salad is the perfect good-bye summer salad. It's filled with all the late summer produce of peaches, strawberries, cucumber and sweet corn. Then it's topped off with a honey-lime vinaigrette.
Course:
Main Course, Salad, Side Dish
Ingredients
1

cup

Nature's Earthly Choice Organic Farro

cooked

4

Peaches

diced

1/2

lb.

Strawberries

hulled and diced

1

medium Cucumber

diced (skin removed)

3

Peaches N' Cream Corn on the Cob or another sweet corn

shucked and cooked

1/2

Shallot

diced

Cilantro

a good handful

1/4

cup

Extra Virgin Olive Oil

1 1/2

tbsps

Beeyond The Hive Raw Clover Honey

1

Lime

freshly squeezed juice

Salt

to taste

Freshly Ground Black Pepper

to taste
Instructions
Prepare the farro according to package directions

While the farro is cooking, fill a large pot with water and bring to a boil. Gently place the ears of corn into the water, cover the pot, and turn off the heat. Let the corn cook in the hot water until tender, about 8-10 minutes.

Over a cutting board - hold one corn cob vertically - cutting the kernels off. Repeat this process with the remaining corn cobs.

To a large bowl, add the farro, fruits and veggies and stir to combine.

In a separate bowl, whisk together the olive oil, honey, lime juice and some salt and pepper.

Mix the vinaigrette into the salad. Check the flavors again, because you may need to add a bit more salt and pepper.

Serve at room temperature or cold.