5 Chicken Breast
4 Tbs Olive Oil
Minced Garlic
1 cup Water
1/3 cup Honey
1/2 cup Apple Juice
1/2 cup Chicken Broth
2/3 cup Soy Sauce
1/3 cup Ketchup
1 cup Brown Sugar
1 tbs Corn Starch
2 Tbs Apple Cider Vinegar
1/2 tsp Onion Powder
1/2 tsp Red Pepper Flakes (**optional**)
Salt
Pepper
Hey honey lovers! I've got a great dinner idea for you today! I grabbed this recipe from a friend of mine and decided to give it a whirl. I have been craving something a little different and one of the cons of living in a small town is you don't have the options of Japanese, Thai, Indian or Chinese food. Which I absolutely love! I am also married to a guy that likes beer and meat and that's about it….lol. So eating at these types of restaurants is few and far between to say the least!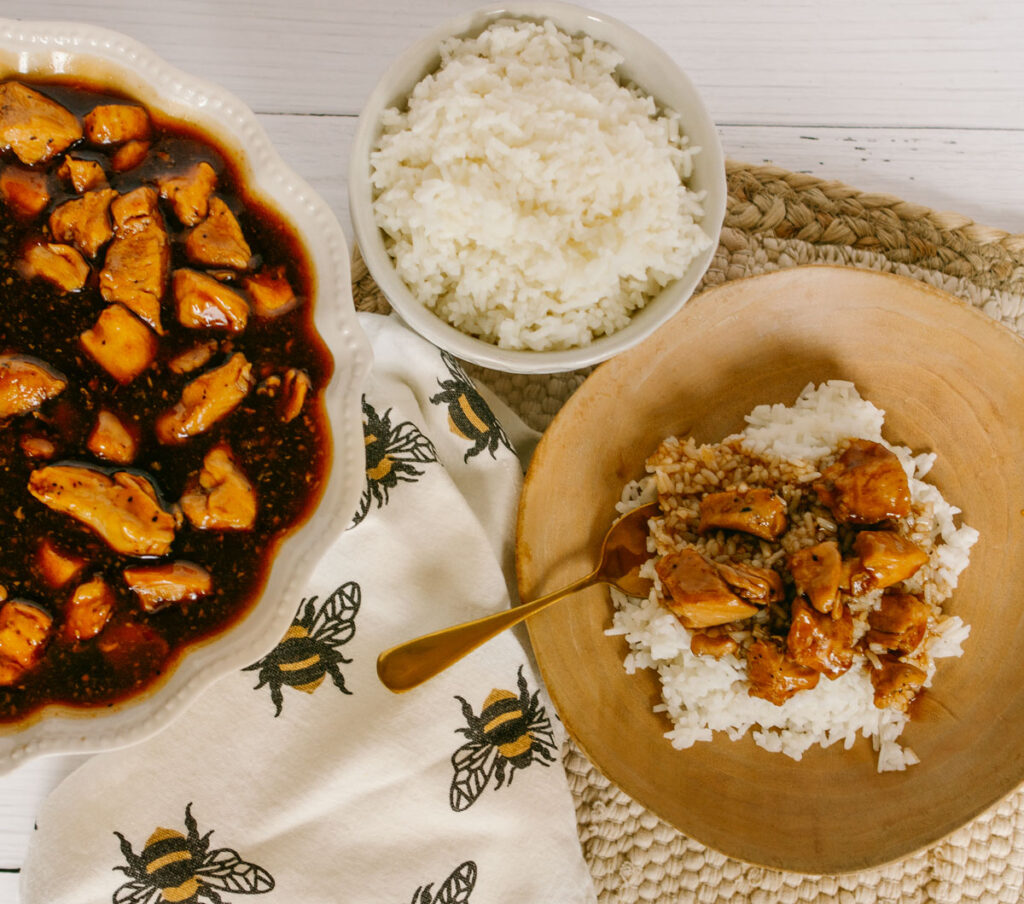 I saw this recipe and figured I'd give it a try! Periodically I have searched Pinterest for a dish like this but every time I made one they never turned out very well. Pretty mediocre. So to be honest, I had low expectations with this recipe because I figured it would be a flop like alllllllllll the others I've tried in the past.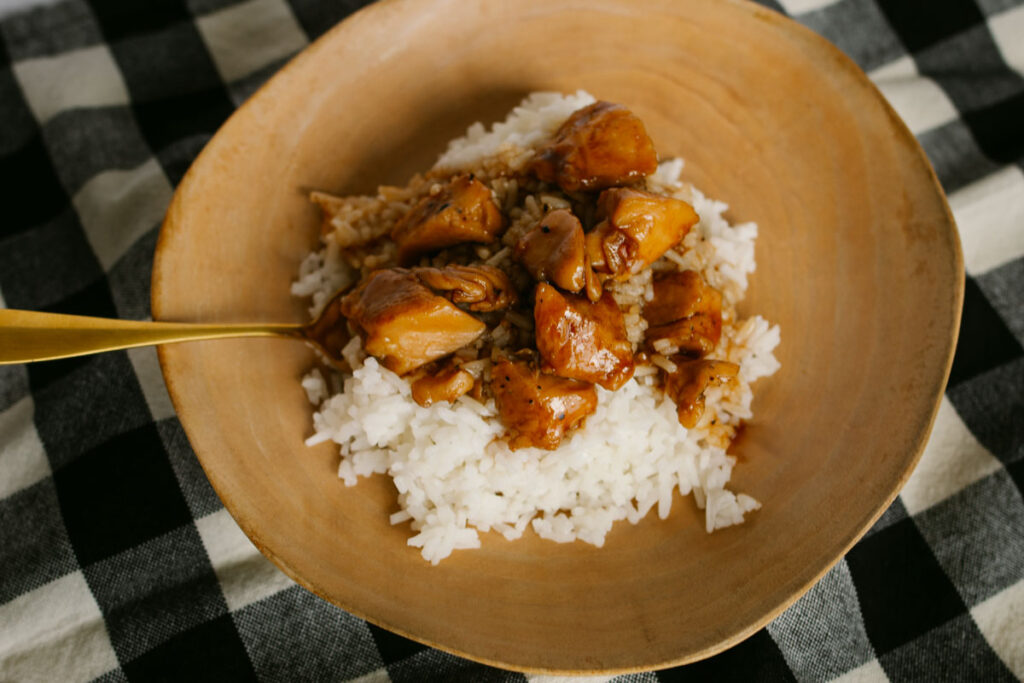 All I can say is wowza! We absolutely loved this recipe and ate every last bit. Even my Manmeat of a husband loved it. My children loved it. This is an absolute home run in my book! This savory dish has even been on my mind since I ate it last week and I can not wait to make it again. You can add sesame seeds if you'd like or even red pepper flakes to add some heat. Since I was feeding my family I had to omit the pepper flakes but I think I need to make myself a secret batch just for myself so I can spice it up!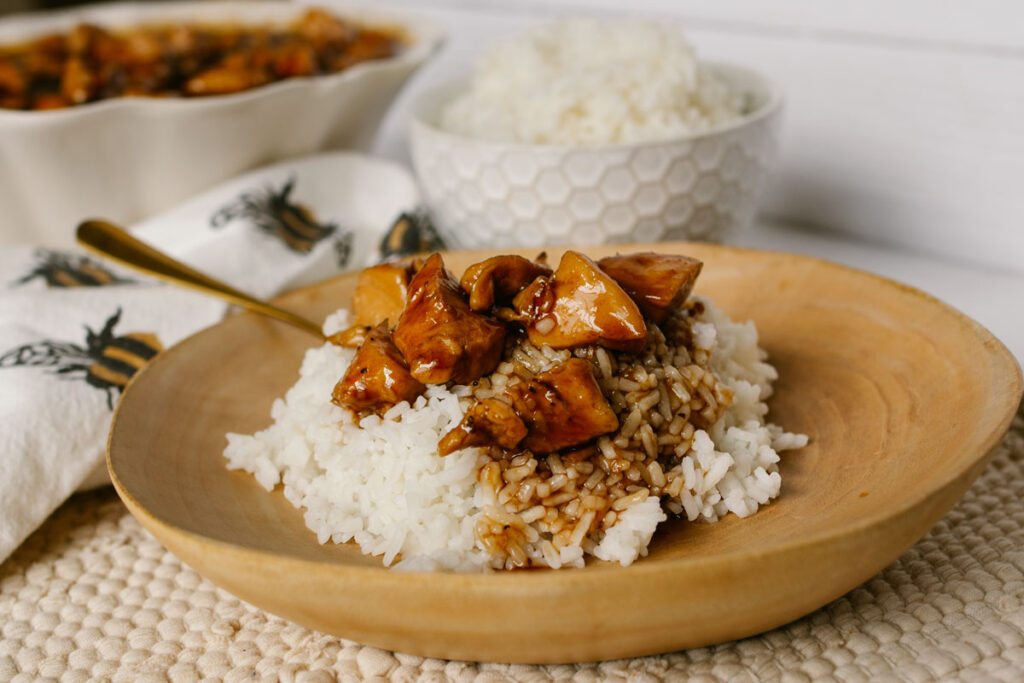 So if you live in the boonies like I do or you aren't eating out as much because of Covid, you should give this a try. I promise it will scratch that Chinese food itch and you'll be begging for seconds!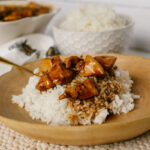 Honey Soy Chicken with Rice
Ingredients
5-6

Chicken Breast

(cut into 1 inch cubes)

4

TBS

Olive Oil

2

cloves

Garlic

(minced)

1

cup

Water

1/3

cup

Honey

(Beeyond the Hive is best)

1/2

cup

Apple Juice

1/2

cup

Chicken Broth

2/3

cup

Soy Sauce

1/3

cup

Ketchup

1

cup

Brown Sugar

1

TBS

Corn Starch

2

TBS

Apple Cider Vinegar

1/2

tsp

Onion Powder

1/2

tsp

Red Pepper Flakes

**optional**

Salt

Pepper

1-2

cups

Rice of your choice!

( I used Jasmine)
Instructions
Heat oil in a large pan then throw your pieces of chicken in the pan. Sprinkle with salt and pepper.

While the chicken is cooking, mix together in a separate bowl the water, honey, apple juice, chicken broth, ketchup, soy sauce, apple cider vinegar, brown sugar, onion powder and red pepper flakes (if you want the spice).

Once the chicken is completely cooked remove it from the pan.

Add your minced garlic to the empty pan and cook for 1 minute.

Add your sauce mixture and bring it to a boil.

Time to make your slurry which will thicken up your sauce. Add cornstarch to a separate cup and mix with 1 TBS of COLD water to make your slurry (you want equal parts cornstarch to water. The water must be cold). Mix it up until it becomes like a paste. Then add it to the sauce pan and stir it in.

**once in a while my sauce won't thicken up after adding the slurry. If this happens I just repeat this step again until it reaches your desired thickness!

Add the chicken back into the pan and simmer for 5-10 minutes.

Make your rice! I just use a quick Jasmine rice that takes 5-10 minutes.

That's it! Dish up a serving of rice and top it off with the honey chicken soy sauce! Sprinkle some sesame seeds if you're feeling fancy.